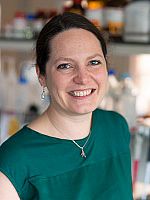 Dr
Catherine Hall
Biography
Catherine is interested in how the brain balances energy supply and demand. During her PhD (with John Garthwaite, UCL), she studied nitric oxide (NO) consumption by brain tissue. As a post-doctoral researcher (with David Attwell, UCL), she investigated how NO alters how the brain uses oxygen, and what processes of neuronal transmission use the most oxygen. She then studied how NO and other signalling molecules interact to control the brain's energy supply by regulating the tone of capillary pericytes, and how this regulation is impaired after stroke.
In 2014 she became a Senior Lecturer at the University of Sussex, and now studies how the regulation of the brain's energy supply (neurovascular coupling) varies during different brain states, across different brain regions and at the onset of conditions such as Alzheimer's disease and obesity. You can see more about current projects on her lab website.
She is a member of the Sussex Neuroscience Steering Committee, the University Senate, convenes the core first year module "Psychobiology" and lectures on topics relating to basic neuroscience, neurovascular function and dementia.
Community and Business
Catherine's lab is actively involved in community outreach. Please look at the posts on our lab website to see what we have been up to recently!