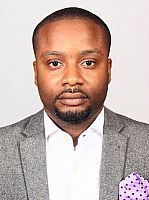 Mr
Jude Nnodum
Biography
Jude is a PhD student and a Doctoral Tutor at the School of Law, Politics and Sociology (LPS). His current research is on the 'Implication of International Investment Agreements on Environmental Governance in Nigeria'. His research analyses how the protection of foreign investment(s), as contained in international investment agreements signed by Nigeria, will impact on the ability of Nigeria (as a developing state) to make laws (and policies) that will protect its environment, using the 'third world approaches to international law' (TWAIL) perspective.
In fulfilment of his LLM qualification he complete a disseration titled: 'An Analysis of the Most-Favoured-Nation clause in Nigeria's International Investment Treaties and its Implications.'
Prior to his academic and research career, he worked as an associate at Kenna Partners, a top-tier commercial law firm based in Victoria Island, Lagos, Nigeria. While at Kenna Partners, he was part of the team that represented the Federal Government of Nigeria, particularly, the Attorney-General of the Federation, in number of landmark cases on issues of Fundamental Human Rights, Concession Agreements of Murtala Mohammed Airport (MMA2), amongst others. He was also part of the team that represented a Multinational Oil Company in an environmental pollution related suit. After his time at Kenna Partners, he worked with J.T.U. Nnodum, SAN & Co, Owerri, Imo State, Nigeria, where he cut his legal teeth in criminal and civil ligitation and alternative dispute resolution under the pupilage of J.T.U. Nnodum, SAN (Nigerian equivalent of Queen's Counsel (QC)).
During his National Youth Service Corp (NYSC) programme, he took pro-bono cases at the Magistrate court, representing indigent defendants in criminal cases, as part of the LegalAid Scheme.
He currently teaches the Introduciton to Bussiness Law Module (Autumn term) and Justice, Equality and Society (JES) Module (Spring term).
Role
Doctoral Researcher (Law)
Qualifications
Doctor of Philiosphy, PhD University of Sussex (September, 2017-Present);
Master of Laws, LL.M (Distinction), University of Sussex, 2015;
Barrister-at-Law, B.L. (Barrister and Solicitor of the Supreme Court of Nigeria), 2013;
Council of Legal Education Bar Examinations (Second Class Upper), 2013;
Bachelor of Laws, LL.B (Second Class Upper), Imo State University, 2012.
Activities
Member Society of International Economic Law;
General Secretary Sussex Nigeria Society