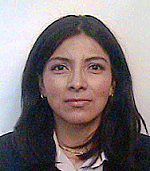 Dr
Elizabeth Rendon-Morales
Biography
Elizabeth received her BSc degree in Telecommunications Engineering (honors) from National Autonomous University of Mexico, School of Engineering and a MSc degree (honors) in wireless protocols from ITAM / Telecom Bretagne, Rennes France in 2005.
Since 2002 she joined AmericaMovil-AT&T research laboratories to work on the evaluation of wireless technologies.
In 2008, she started her doctoral studies on communications protocols for applications in telemedicine at the Technical University of Catalonia, Barcelona Spain.
Currently she holds the Marie Sklodowska-Curie Actions COFUND post-doctoral fellowship at the University of Sussex, UK where she performs research focussed on the evaluation of new sensors developments based on Electric Potential Sensing technology for applications in electrophysiology.
Role
Lecturer in Electrical and Electronic Engineering
Phone : 01273 87 7603
Internal 7603
Other roles:
Member of the Athena SWAN Chair commitee School of Eng and Informatics
Member of the Athena SWAN Chair commitee University of Sussex
Former Marie Skłodowska-Curie Actions COFUND Research Fellow

Member of the Institute of Engineering and Technology
Member of the Institute of Electrical and Electronics Engineers
Member of the eFutures Sensors to Systems Network
Member of the WISE Campaing to promote women in science technology and engineering
https://www.wisecampaign.org.uk/