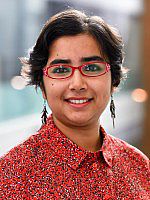 Dr
Bipashyee Ghosh
Post:
Research Fellow in Deep Transitions (SPRU - Science Policy Research Unit)
Other posts:
School Tutor (SPRU - Science Policy Research Unit)
Location:
JUBILEE BUILDING JUB-368
Email:
B.Ghosh@sussex.ac.uk

Telephone numbers
Internal:
6921
UK:
01273 876921
International:
+44 1273 876921

Research expertise:
download vCarddownload vCard to your mobile
Biography
Bipashyee is a Researcher Fellow at SPRU - Science Policy Research Unit, University of Sussex Business School. She is working on Deep transitions and Transformative Innovation Policy Consortium projects. She graduated in 2019 with PhD thesis titled "Transformations beyond experimentation : Sustainability transitions in megacities". For her Doctorate, she worked with Prof. Johan Schot and Dr Saurabh Arora at SPRU.
In her doctoral research, Bipashyee has studied urban mobility transformations in megacities in the Global South, particularly in India and Thailand. Using theories of sustainability experimentation, sustainability transformation and socio-technical imaginaries for urban transformation, her work explores the ongoing transitions in urban mobility systems and visions for smart cities in response to persistent sustainability problems like social inequality and climate change. Her current work includes understanding rules of Deep Transition, focussing on Artificial Intelligence and Digital systems and conceptualising a lab for Transformative Innovation Policy.
Bipashyee has a MSc in Innovation Sciences from Eindhoven University of Technology (TU/e), Netherlands. She worked in the NWO-WOTRO project on sustainability experiments in India and Thailand. She has an undergraduate degree in Economics from Jadavpur University in India. She also served as a social activist - raising awareness of climate change issues in India, working as an International Climate Champion (ICC) awared by British Council.
Role
Researcher in Deep transitions and Transformative Innovation Policy Consortium research projects
Qualifications
Doctor of Philosophy, University of Sussex, UK
Master of Science, Innovation Sciences from Eindhoven university of Technology, The Netherlands.
Bachelor of Arts, Economics, Jadavpur University, India
Activities
27.11.2019
Workshop facilitation on "Preparing for your PhD viva", delivered for Sussex Researcher Development programme, Doctoral school, University of Sussex