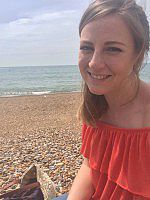 Ms
Laura Cofield
Biography
My PhD thesis investigates body hair removal in twentieth and twenty first century British culture, as a way of exploring changing perceptions of body image and personal experiences of grooming/body modification.
Role
Doctoral Researcher and Associate Tutor
Student Associate Member of the Centre for Life History and Life Writing Research
Qualifications
Current: PhD History, University of Sussex (CHASE/AHRC funded)
2012-2013: MA Contemporary History, University of Birmingham (College of Arts and Law Graduate Scholarship)
2008-2011: BA Modern History and Political Science, University of Birmingham
Activities
Member of Beauty Demands Network, led by the University of Birmingham. Blogpost: 'The Pure Erotics of Brazilian waxing' published online May 22, 2017.
I co-organised the 'Seen But Not Heard?' Childhood and Youth Conference at the University of Sussex from 18-20th January 2017. Website: https://seenbutnotheard2017.wordpress.com/
'Why is women's body and facial hair still a taboo?' Woman's Hour, BBC Radio 4, 19 Feb 2016. Listen to the interview with Jenni Murray here
'Harnaam Kaur and women's facial hair' Interview with Mark Forrest for the Mark Forrest show, BBC Local Radio, 8 Sept 2016, 7.15pm
2016-2017 Representative for History postgraduate research students
Co-ordinating member of Ngender: The University of Sussex postgraduate gender and sexuality research collective (2015-2016)
Book Reviews:
L. Cofield, (2017) 'Seven Lives from Mass Observation: Britain in the Late Twentieth Century' by James Hinton Contemporary British History (Online)
Conference and seminar papers:
'"A honking armpit is a bit like an uncultured voice to me": Changing Expectations of cleanliness in Mass Observation's 1992 Personal Hygiene Directive' (10-11th July 2017) Mass Observation 80th Anniversary Conference, University of Sussex
'"Nice girls don't have superfluous hair': Body hair removal guidance and girlhood identity 1964-1980' (5-7 July 2017) Modern British Studies Conference 'British Studies in a Broken World', University of Birmingham. Joint Winner of the Modern British Studies and Contemporary British History Prize for postgraduate research paper
'The Limits of "Girl Love": The Negotiation of Friendship in the early 1990s Riot Grrrl music scene' (4-6 April 2017) Social History Society Conference, UCL Institute of Education, London.
'Pathologising pubic hair: the practice of pre-delivery shacing and hygienic hair-modifying behaviours in twentieth and twenty-first century Britain' (Nov 2016) Centre for History in Public Health, London School of Hygiene and Tropical Medicine. Available to listen here
'Riot Grrrl and the re-articulation of body politics in the early 1990s' (July 2016) How to Write and Conceptualize the History of Youth Cultures Centre for Metropolitan Studies, Berlin.
'"Does the Writer leave her tache/chin/eyebrows unplucked?" Legitimacy informed by personal grooming in public discussions of the history of hair removal' (June 2016) Seeking Legitimacy Workshop University of Birmingham.
'"Coming Out" as Hairy' Readers' Letters in Spare Rib magazine as a site of struggle and platform for resistance' (May 2016) Liberation, Struggle and Resistance: Ngender Research Collective, University of Sussex.
'Riot Grrrls: Fangrrrling Feminism' (March 2016) "Let's Hear it for the Girls": Girlhood, Media and Popular Culture, 1990- present' University of Warwick.