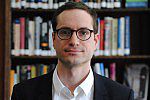 Mr
Sam Geall
Biography
Research Fellow on Low-Carbon Innovation in China at Science and Technology Policy Research (SPRU) and Executive Editor of chinadialogue, a bilingual website and journal dedicated to open discussion of all environmental issues.
Editor of China and the Environment: The Green Revolution (Zed Books, 2013), a member of theSTEPS Centre, the Sussex Energy Group and on the board of the EU-China NGO Twinning Exchange.
From 2012-2013, Sam was Departmental Lecturer in Human Geography of China at the University of Oxford. In 2013, he was also the International Coordinator of a Special Policy Study, "Promoting Social Media and Public Participation in China's Green Development" for the China Council for International Cooperation on Environment and Development (CCICED). His writing on Chinese affairs has appeared in many publications, including The Guardian, The New Statesman, Foreign Policy, New Humanist, Index on Censorship, Solutions and Green Futures. Read more here.
Role
Research Fellow for Low Carbon Innovation in China: Prospects, Politics and Practice, an international research project led by Lancaster University, funded by the Economic and Social Research Council (ESRC) and an affiliate project of the STEPS Centre, where I study the politics and pratice of low-carbon transitions in agriculture and in the solar energy sector.