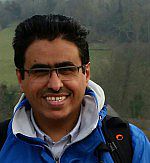 Mr
Khalifah Alfadhli
Biography
Lecturer at psychology department, King Saud University, Riyadh, Saudi Arabia. (March 2009-current)
PhD candidate in Social Psychology at University of Sussex, UK. (Started Sep. 2014)
Role
Social Psychology PhD candidate
Qualifications
BA in Sociology from King Saud University, Riyadh, Saudi Arabia.
MA in Community Psychology & Social Change from Pennsylvania State University, Harrisburg, USA.
Activities
- Ethnography among Syrian refugees in Jordan, to explore secondary stressors and social identity based psychocial support mechanisms. (Oct. 2015 - May 2016)
- Testing and expanding theoretical models of social identity-based support among refugees of conflict in developing countries.
- Building a secondary stressors scale for refugees of conflict.