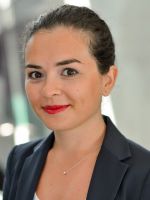 Dr
Maria Restuccia
Biography
Mariachiara Restuccia joined the University of Sussex in January 2014 as Lecturer in Marketing at the Department of Business and Management.
She earned her Ph.D. in Business Administration in March 2014 from HEC Montréal (Montréal, Canada). She holds an M.Sc. in Business Administration (Marketing) from HEC Montréal and a Bachelor of Economics and Management for Arts, Culture, and Communication from Bocconi University (Milan, Italy).
Her research interests include: B2B marketing, new product development, channel marketing, and marketing for artistic and cultural organizations.
https://sites.google.com/site/mariachiararestuccia/
Role
Lecturer (Assistant Professor) in Marketing
Course Director of the International Marketing MSc
N1070 Marketing Strategy (TB1 18/19): Module Co-Convenor
887N1 Marketing Strategy (TB2 18/19): Module Co-Convenor
727N1 Research Project (International Marketing) (TB2-TB3 18/19): Module Convenor
Should you want to arrange a meeting with me, please send an email and I will get back to you as soon as possible.