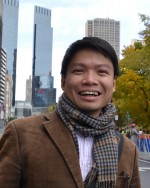 Dr
Novi Quadrianto
Biography
I hail from Jakarta, Indonesia. I received my PhD in Machine Learning from the Australian National University (ANU), Canberra, Australia in 2012. I earned BEng degree in Electrical and Electronics Engineering at Nanyang Technological University (NTU), Singapore. During PhD studies, I have several overseas research exposures, among others, at HIIT-Finland, Yahoo! Research-US, University of Alberta-Canada, Fraunhofer IAIS-Germany, and IST Austria. From 2012-2014, I was a Newton Fellow of the Royal Society at Department of Engineering of University of Cambridge, a Junior Member of the Isaac Newton Institute for Mathematical Sciences, and a Junior Fellow of the Wolfson College. I joined University of Sussex as a Lecturer in February 2014. Since April 2017 I am a Senior Lecturer.
Role
Associate Editor (2016-) for IEEE Transactions on Pattern Analysis and Machine Intelligence (TPAMI). TPAMI, with SCImago Journal Rank (SJR) 2015 rating of 7.653, is ranked second in the area of Computer Science.

According to the Journal Citation Reports, TPAMI has a

2016 impact factor of 8.329

.

Founding Associate Editor (2018-) for Frontiers in Big Data - Machine Learning and Artificial Intelligence.
Area chair of NeurIPS 2019, NeurIPS 2018, NIPS 2017, NIPS 2015. Neural Information Processing Systems (NIPS/NeurIPS) is considered the most prestigious venue for work in machine learning along with the International Conference on Machine Learning (ICML).
Senior area chair of AAAI 2020.
Co-chair of the IJCAI 2016 BeyondLabeler Workshop. Invited speakers: Vladimir Vapnik, Alan Fern, Rogerio Feris, Michael Littman, and Rich Caruana. Sponsors: DAGM, IBM, and Google.
Co-founder and Co-director of the Predictive Analytics Lab (PAL) Group and Member of the Data Science Group, University of Sussex, UK.
Academic Supervisor of the International Lab of Deep Learning and Bayesian Methods, National Research University Higher School of Economic, Moscow, Russia.
Mentor at the School of Artificial Intelligence, Pi School, Rome, Italy.
Lecturer at the Lviv Data Science Summer School 2018, Lviv, Ukraine.
Adjunct Senior Lecturer at University of New South Wales, Sydney, Australia.
Community and Business
The Predictive Analytics Lab (PAL) group @ University of Sussex creates significant impact by providing support, technology, and highly-trained specialists to a new generation of technology companies.
The PAL group is growing in size and currently (4 February 2019) consists of 9 team members, consisting of faculty, researchers and research students: Oliver Thomas, Thomas Kehrenberg, Bradley Butcher, Christopher Robinson, Sara Romiti, Myles Bartlett, Viktoriia Sharmanska, Jeremy Reffin, and Novi.
Alumni: Joseph Taylor (Thesis: Privileged learning using unselected features), David Spence (Thesis: Quantification under dataset shift), and Zexun Chen.