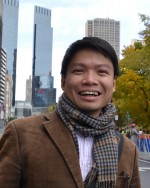 Dr
Novi Quadrianto
Biography
I hail from Jakarta, Indonesia. I received my PhD in Machine Learning from the Australian National University (ANU), Canberra, Australia in 2012. I earned BEng degree in Electrical and Electronics Engineering at Nanyang Technological University (NTU), Singapore. During PhD studies, I have several overseas research exposures, among others, at HIIT-Finland, Yahoo! Research-US, University of Alberta-Canada, Fraunhofer IAIS-Germany, and IST Austria. From 2012-2014, I was a Newton Fellow of the Royal Society at Department of Engineering of University of Cambridge, a Junior Member of the Isaac Newton Institute for Mathematical Sciences, and a Junior Fellow of the Wolfson College. I joined University of Sussex as a Lecturer in February 2014. Since April 2017 I am a Senior Lecturer.
Role
Community and Business
The Predictive Analytics Lab (PAL) group @ University of Sussex creates significant impact by providing support, technology, and highly-trained specialists to a new generation of technology companies. The PAL group is growing in size and currently consists of 10 team members, consisting of faculty, researchers and research students: Zexun Chen, Oliver Thomas, Thomas Kehrenberg, Baris Eray, David Spence, Joseph Taylor, Bradley Butcher, Viktoriia Sharmanska, Jeremy Reffin, and Novi.