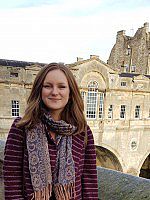 Miss
Jenny Morris
Biography

My research involves cognitive psychology and behavioural methods to test the mechanisms of distraction induced over-eating. Specifically, when our attentional capacity is full, do we still notice food and how does this affect eating? This includes the effect of distraction on awareness of flavour, intake and satiety. I'm also interested in how individuals differ in these mechanisms. I started my PhD in Psychology at Sussex in 2016. I also studied for my Bsc in Psychology at Sussex and worked as a research assistant investigating how value influences intrusive thoughts.
Blog - Eating explained
Role
Doctoral Researcher with Professor Martin Yeomans and Dr Sophie Forster
Qualifications
Current DPhil Psychology, University of Sussex
2013-2016 Bsc Psychology, University of Sussex.