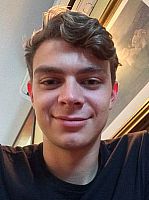 Mr
Samuel Parris
Biography
Current Doctoral Researcher and Tutor in the department of International Relations, under the supervision of Prof. Benno Teschke and Dr. Sam Knafo. My previous studies, both at Sussex, include BSc Geography and MA International Relations with Distinction.
My doctoral research seeks to understand the origins, nature, and trajectory of the United States (US) through an international-historicist perspective: the first of its kind from the discipline of International Relations. This account draws upon Political Marxism to investigate the role social property relations played upon Franco-British geopolitical rivalry, settler colonialism, and agency in the process of U.S. state-formation.
Working Title - The Making of the New World: Franco-British Geopolitical Rivalry, Settler Colonialism, and U.S. State-Formation (1624-1823).
Role
Doctoral Researcher (International Relations)
Qualifications
BSc Geography (Sussex)
MA International Relations (Sussex)