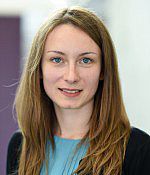 Dr
Ruxandra Monica Luca
Biography
I have completed my PhD degree (2018) at Imperial College London in Marketing: my doctoral thesis merges Cognitive Psychology and Consumer Behaviour. I explored the role that interruptions play, such as pop-up notifications and ads, in an online context and the subsequent effects these have on product selection and purchasing behaviour.
I hold a Master degree in Psychology and Neuroscience from the University of Toronto, where I also obtained an Honours Bachelor of Science degree (majors: Human Biology, Psychology; minor: Film Studies).
My current research interests are related to: visual attention, decision making, self-control, and behavioural nudging. Most of my works centres on experimental research design.I have taught Introduction to Marketing, Global Marketing, Consumer Behaviour, Psychology, and Neuromarketing at the UG, PG, and Executive MBA levels. These have been taught at various institutes such as London School of Economics, King's College London, Imperial College London, and University of Toronto, and University of Sussex.
You can find me on LinkedIn (https://uk.linkedin.com/in/ruxandraluca) and Twitter (https://twitter.com/Ruxandra_Luca).
Role
Lecturer in Marketing (Business and Management)