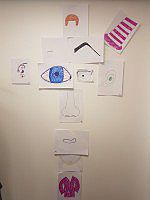 Mr
Matthew Tiernan
Role
Academic Development and Quality Enhancement - Administrative Officer
In ADQE, I am working in the Enhancement Team under Clare Wolstenholme.
You can find out more about my work by reading some of my posts on the ADQE blog.
I work closely with the Students' Union on the Student Rep scheme, in particular encouraging student engagement in University decision-making process, as well as being the Secretary for the Student Experience Forum.
I also support the Student Led Teaching Awards, the Annual Course Review and Enhancement Event, surveys at Sussex (including internal course surveys, the NSS and PTES) as well as helping with the Annual Teaching and Learning Conference.
In 2016/17 I am the minuting Secretary to the Student Engagement Sub-Committee and minuting Secretary to several operational groups, sub-committees and working groups.
In 2015/16 I was also the Secretary to the Academic Advising Implementation Group, the NSS Steering Group, and minuting Secretary to the Teaching and Learning Strategic Enhancement Sub-Committee and other sub-committees.
---
Former Senate Representative, Professional Services Staff
From July 2015 until July 2017 I was one of two Senate Representatives for Professional Services staff across the University (with Lynn Gibbs and Jolyon Western).
All University staff have access to Senate documentation via Sussex Direct.
---
Former Postgraduate Course Coordinator, MPS
From September 2013 - October 2015, I was the Postgraduate Course Coordinator for MPS.
I was the Course Coordinator for postgraduate taught (MSc) students for both the Mathematics and Physics departments.
I provide administrative support for taught masters students, such as managing student records, arranging events and handling course queries, options, module changes and dissertation hand-ins, and support the exam board process.

I am the Secretary for all Postgraduate Exam Boards in MPS (6xMABs and 3xPABs per year).

I have responsibility for Engagement Monitoring for the School, providing reports on attendance and submissions and am the Secretary for the School Student Progress Committee.

I am the School Office contact for Student Support issues, such as Mitigating Evidence Claims, Learning Agreements and Reasonable Adjustments.

I have supported the Curriculum and Assessment Officer with the syllabus rules and temporary withdrawals processes.

I co-ordinate the termly process of Module Evaluation Questionnaires.
Fairly unrelated to my role, but I wrote a number of blog posts about sports and fun activities at the time, which you can read on my Splash blog.