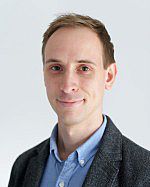 Dr
Liam Berriman
Post:
Lecturer in Digital Humanities (Social Work and Social Care)
Other posts:
Lecturer (Sussex Humanities Lab)
Member (Centre for Innovation and Research in Childhood and Youth)
Location:
ESSEX HOUSE EH 224
Email:
L.J.Berriman@sussex.ac.uk

Telephone numbers
Internal:
2623
UK:
01273 872623
International:
+44 1273 872623

Research expertise:
download vCarddownload vCard to your mobile
Biography
Liam Berriman is Lecturer in Digital Humanties/Social Science, and is based across the Sussex Humanities Lab and the Department of Social Work.
His main research areas include: 1. Cultures of childhood and youth in a digital age - looking at how children and young people's everyday cultures have been transformed by digital technology since the 1980s. Most recently, this includes a study of toys and technology. 2. Cultures of children's data - looking at the care, governance and sharing of children's data across different institutional sites. 3. The ethics of big data and its relationship to participatory and action research. For example, how big data can be re-appropriated for research with different community groups.
Liam teaches on both the BA Childhood and Youth and the MA Childhood and Youth Studies.
Qualifications
PhD Sociology 'Design and Participation Across Young People's Online Spaces' (Goldsmiths, University of London)
MA Social Research (Goldsmiths)
BA History & Sociology (Goldsmiths)
Teaching Areas
Childhood & Youth Studies
Research methods/Research design
Media Studies & Cultural Sociology
Research Areas
Digital childhood and youth
Inventive methods
Digital and cultural economy
History of media and computing practices
Time and the everyday
Doctoral supervision
Liam's supervision interests are focused on childhood and youth, particularly in relation to the everyday, material culture, digital culture, economic lives and consumer culture, and digital sociology.
His methodological interests include ethnographic and participatory research, and innovative/creative methods.
Liam currently supervises:
Manuel Cruz Martinez:

Exploring the Potential of Video Games to Engage with Deconstructionist History

Jenny Hewitt: Exploring The Power of Children Through Their Words and Worlds: How Young People's Public Constructions Intersect with the Political and Personal
Nesreen Munshi: Using Virtual Reality Games at Kindergarten in Saudi Arabia.
Role
Lecturer in Digital Humanities/Social Science