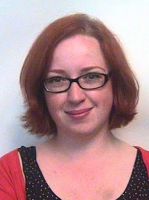 Dr
Katherine Farrimond
Biography
I came to Sussex as a Teaching Fellow in 2013, and became Lecturer in Media and Cultural Studies in 2015.
Before this, I completed my PhD in English Literature at Newcastle University in 2012, where I worked as a part time tutor and research assistant in the schools of English, Media and Cultural Studies and Modern Languages. During my time in Newcastle upon Tyne, I was also a visiting lecturer at Northumbria University.
In addition to my role at Sussex, I am book reviews editor for Feminist Theory journal, and sit on the steering committee for the Crime Studies Network.
Role
I am Lecturer in Media and Cultural Studies, and E-Submission and E-Feedback Coordinator for the school of Media, Film and Music. I am also responsible for media, film and music teaching during residential summer schools, as part of MFM's contribution to Widening Participation.