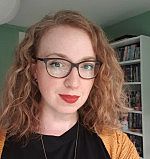 Dr
Katherine Farrimond
Biography
I came to Sussex as a Teaching Fellow in 2013, and became Lecturer in Media and Cultural Studies in 2015.
Before this, I completed my PhD in English Literature at Newcastle University in 2012, where I worked as a part time tutor and research assistant in the schools of English, Media and Cultural Studies and Modern Languages. During my time in Newcastle upon Tyne, I was also a visiting lecturer at Northumbria University.
Role
I am Lecturer in Media and Cultural Studies, Media and Film Partnership Tutor for the International Study Centre, and co-editor of REFRAME. I am also part of the editorial collective for Feminist Theory journal.