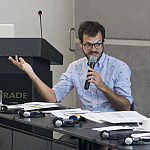 Dr
Olli Hellmann
Biography
Olli Hellmann joined the Department of Politics in 2013. Prior to his appointment at Sussex, Olli held the position of Lecturer in Asian Political Economy at Durham University (2010-13).
Olli's main research interests include informal institutions (corruption and clientelism, in particular), state building, and democratisation. He studies these issues in the social and political context of the developing world.
Olli's research has been funded by the Economic and Social Research Council, the Korea Foundation (the project's research findings have been published in the Journal of East Asian Studies) and, most recently, through the British Academy/DFID Anti-Corruption Evidence (ACE) programme. In 2016, Olli was appointed a POSCO Fellow of the East-West Center, Honolulu.
Community and Business
Olli is the Co-Convenor of the Political Studies Association (PSA) Specialist Group on Corruption and Political Misconduct.