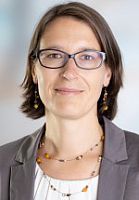 Prof
Karoline Rogge
Post:
Professor of Sustainability Innovation and Policy (SPRU - Science Policy Research Unit)
Other posts:
Senior Lecturer (The Sussex Energy Group)
Location:
JUBILEE BUILDING JUB-378
Email:
K.Rogge@sussex.ac.uk
Personal homepage:
Senior Lecturer in Sustainability Innovation and Policy, SPRU, University of Sussex

Telephone numbers
Internal:
3582
UK:
01273 873582
International:
+44 1273 873582

Research expertise:

climate policy

,

consistency

,

credibility

,

decarbonization

,

eco-innovation

,

ecological economics

,

energy transition

,

Environmental economics

,

eu emission trading system

,

Innovation studies

,

innovation survey

,

offshore wind

,

policy mix

,

Renewables

,

Socio-technical transitions

,

sustainability

,

Sustainability transitions

download vCarddownload vCard to your mobile
Biography
Karoline Rogge is Professor of Sustainability Innovation and Policy and Co-Director of the Sussex Energy Group. Karoline joined SPRU in November 2013 from the Fraunhofer Institute for Systems and Innovation Research (Fraunhofer ISI) in Karlsruhe, Germany, where she has been working on energy and climate policy since 2004 and continues to be affiliated with as senior researcher - and since July 2019 as Deputy Head of the Competence Center Policy & Society. Since 2016 she is a Fellow of the Higher Education Academy.
Karoline's interdisciplinary research combines insights from environmental economics, innovation and transition studies and political science to investigate the link between policy and innovation, with a focus on the energy sector. Karoline's research ranges from evaluating the innovation impact of single policy instruments, such as the EU emissions trading system – the topic of her PhD at ETH Zurich – to analyzing the effects of comprehensive policy mixes for promoting the low carbon transition of the energy system. Regarding the latter, Karoline has led the GRETCHEN project (2012-15, funded by the German Federal Ministry of Education and Research, BMBF) investigating the influence of the policy mix for renewable energies on technological and structural change in Germany. Karoline has also contributed her policy mix expertise to the Centre on Innovation and Energy Demand (CIED) at the University of Sussex, with a focus on combining innovation and transition studies with theories of the policy process. In addition, she was Fraunhofer ISI's principal investigator of the European project PATHWAYS (2014-16), in which she performed a multi-level analysis for the electricity sector in Germany, comparing it with the low-carbon energy transition in the UK. She was also involved in the ENavi Kopernikus project (2017-19) in which she surveyed low-carbon managerial decision-making in Germany's energy intensive industries.
Currently, Karoline is investigating industrial policy and institutional change in the context of smart energy transitions within the SET project, comparing Denmark, UK and Germany. In June 2019 she started a new 3-year project on social innovation in energy transitions (SONNET), in which she leads a consortium of 13 European partners, six of them cities - among them Bristol in the UK and Mannheim in Germany - and acts as work package leader of the socio-political aspects associated with accelerating low-carbon energy transitions.
Karoline has been involved in advising policy makers in Germany, Luxembourg, China, the UK and the EU on climate policy and innovation. Prior to joining academia she has worked as consultant to the OECD and the World Bank.
Role
Professor of Sustainability Innovation and Policy
Co-Director Sussex Energy Group
Deputy Course Director MSc in Energy Policy (online)