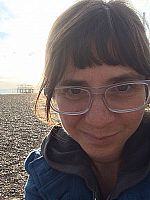 Ms
Allison Baldasare
Role
supporting Migrating out of Poverty, a DFID-funded research programme working with partners in Africa and Asia, on issues related to migration and development.
Check out Migrating out of Poverty's digital spaces:
https://www.migratingoutofpoverty.org
https://migratingoutofpoverty.blogspot.co.uk/
https://twitter.com/MigrationRPC
https://www.facebook.com/migratingoutofpoverty/
I am also currently studying for an MA in Social Development with the School of Global Studies. I ♥ Global.