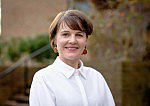 Ms
Joanna Callaghan
Biography
Dr Joanna Callaghan is a Senior Lecturer in Filmmaking.
Since 2012 she has sat on the executive of the Media, Communication and Cultural Studies Association (MeCCSA) as Chair of Practice and since 2014 on the editorial board of the Journal of Media Practice.
She has worked as a director, producer and journalist in film, television and radio in France, Australia and the UK. Her practice work has been shown in galleries and festivals internationally and she has been nominated for a number of awards. Callaghan is co-director of independent production company Heraclitus Pictures.
http://www.heraclitus.org.uk
Callaghan's practice-based research project 'Ontological Narratives' has resulted in a series of films on philosophical ideas alongside associated writing. Her experimental feature 'Love in the Post: From Plato to Derrida' (2014, 80') was based on 'The Post Card' by Jacques Derrida and was funded by the Arts & Humanities Research Council (AHRC). It received first prize for 'Best Practice Project' in 2016 from the British Association of Film, Television & Screen Studies. http://www.loveinthepost.co.uk
Joanna Callaghan is currently leading a UK-Australia AHRC network project on Filmmaking Research. The aim of the Filmmaking Research Network is to develop understanding and consolidate the field of filmmaking research by sharing best practice internationally and developing resources. The FRN will examine how the UK and Australia use filmmaking research to generate new knowledge and will produce resources to improve capacity and research infrastructure.
http://filmmakingresearch.net/
As a curator Callaghan has produced touring exhibitions of artists films including Artist vs Hollywood (2005-9) at Globe Gallery Newcastle, The Block, Queensland University of Technology Brisbane, NBK Berlin & Curzon Soho. She ran artist run space Elastic Residence in Whitechapel from 2003-2006 curating exhibitions including a large scale international activist project KISSS exhibited at Castlefield Gallery Manchester & Concial Gallery Melbourne.
Role
Senior Lecturer Filmmaking