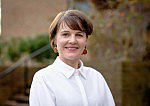 Prof
Joanna Callaghan
Biography
Dr Joanna Callaghan is an artist filmmaker and Professor of Filmmaking at the University of Sussex.
She has worked as a director, producer and journalist in film, television and radio in France, Australia and the UK. Her practice work has been shown in galleries and festivals internationally and she has been nominated for a number of awards. Callaghan is director of independent production company Heraclitus Pictures.
Callaghan sits on a number of boards including the executive of the subject body association Media, Communication and Cultural Studies Association (MeCCSA) as Chair of Practice and on the Practice Research Advisory Group (Prag-UK).
As a curator Callaghan has produced touring exhibitions of artists films including Artist vs Hollywood (2005-9) at Globe Gallery Newcastle, The Block, Queensland University of Technology Brisbane, NBK Berlin & Curzon Soho. She ran artist run space Elastic Residence in Whitechapel from 2003-2006 curating exhibitions including a large scale international activist project KISSS exhibited at Castlefield Gallery Manchester & Concial Gallery Melbourne.
Role
Professor of Filmmaking