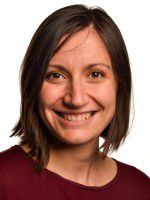 Dr
Alessia Pasquazi
Biography
Alessia Pasquazi received her PhD in Engineering from the University of Roma Tre in 2009. She has been MELS fellow (Quebec, Canada) from 2010-2011 and EU Marie-Curie Fellow from 2013-2015. She works in the field of nonlinear photonics and she is currently Reader in experimental physics at the University of Sussex.
Alessia is leading the research in ultrafast integrated optics at the EPic Lab http://www.sussex.ac.uk/physics/epic/
Her scientific production includes 44 publications in top journals such as Nature Photonics, Nature Communications, Physical Review Letters and about 150 conferences and 3 patents. Her work in optics received more than 1400 citations (h-index=20).
She serve as editor of the Scientific Reports journal (Nature Publishing Group) and member and chair of panels for several conferences, organised by SPIE, OSA and IEEE societies. She has been program chair of the OSA 'Nonlinear Photonics conference' (2018).