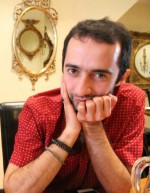 Mr
Yasin Koc
Biography
I am have started my PhD in September 2014 in Social Psychology with Dr Vivian Vignoles working on identity motive satisfaction in ethnic and gender identities. Prior to my PhD, I worked with Viv at Sussex as a visiting research associate on multiple projects addressing identity-based interventions, and a large cross-cultural project on models of selfhood, identity motives, consumer culture behaviors, and wellbeing.
I have undergraduate degrees in Psychology and Comparative Literature from Istanbul Bilgi University, Turkey, and I also worked as a research assistant at the University of Edinburgh in 2010-2011 on a project regarding the phenomenological investigation of state authenticity with Dr Alison Lenton, Dr Letitia Slabu, and Prof Constantine Sedikides. I completed my undergraduate dissertation on predictors of trait authenticity across cultures with Prof Diane Sunar.
Once I gained my BA degree in Psychology in 2011, I worked as a child psychologist for 2 years at private practice in Turkey. I prepared and applied educational programmes for children with autism, Asperger's, and learning difficulties. I also continued to do research on masculinities, ethnic identity, and prejudice.

Recently, in January 2015, I started working as a Graduate Teaching and Research Assistant at Centre for Social Work Research and Innovation (have a look at our website here at C-SWIR) with Barry Luckock. I assist Barry on administrative tasks to run the centre activities (e.g, organising events, preparing annual reports), and often perform research related activities (e.g., systematic review, analysing data).
Role
PhD Student with Dr Vivian Vignoles.

Graduate Teaching and Research Assistant at C-SWIR (Centre for Social Work Innovation and Research) with Barry Luckock.
Associate Tutor for the following modules:
Running online experiments: Use of Inquisit (Convenor and tutor; Winter 2017, Summer 2016)
Meta-analysis using R (Demonstrator; Winter 2017, Summer 2016)

Structural Equation Modeling using R (Demonstrator; Spring 2017, 2016)

Social Research Methods (PG and UG Module; Spring 2016, 2015)

Discovering Statistics (PG and UG Module; Fall 2016, 2015, 2014)

Social Psychology (UG Module; Spring 2015)

Linear Models (Cover tutor; PGT Module; Fall 2016, 2015, 2014)
Qualifications
2014 - present, PhD Student in Social Psychology at University of Sussex
2006 - 2011, BA in Psychology (High Honours), Istanbul Bilgi University, Turkey
2006 - 2010, BA in Comparative Literature (High Honours), Istanbul Bilgi University, Turkey
Activities
Student member, European Asscoation of Social Psychology (EASP)
Student member, Society for Australiasian Social Psychology (SASP)
Student member, Society for Social and Personality Psychology (SPSP)
Student member, International Association for Cross-Cultural Psychology (IACCP)
Founding member, IACCP Next Generation Special Interest Group
Plannning Team Member, IACCP Culture and Psychology School
Research network coordinator, Culture and Identity Research Network (CIRN)
PhD student member, Social and Applied Psychology Research Group, University of Sussex
Steering Group Member, Centre for Social Work Innovation and Research (C-SWIR), University of Sussex
Advisory Group Member, #ASYEngage: Exploring the opportunities and challenges of social work encounters with social media
PGR Student Rep for School of Psychology