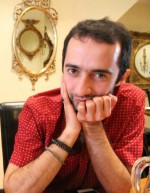 Dr
Yasin Koc
Biography
I completed my PhD in September 2017 in Social Psychology with Dr Vivian Vignoles working on identity threat and coping among highly stigmatised ethnic and gender identities. Currently, I am working as an assistant professor of social psychology at the University of Groningen, and continue my work with colleagues in psychology at Sussex.
Role
2018 onwards Visiting Lecturer at School of Psychology.

2014 - 2018 PhD Student with Dr Vivian Vignoles.

2014 -2017 Graduate Teaching and Research Assistant at C-SWIR (Centre for Social Work Innovation and Research) with Barry Luckock.
Qualifications
2014 - 2018, PhD Student in Social Psychology at University of Sussex
2006 - 2011, BA in Psychology (High Honours), Istanbul Bilgi University, Turkey
2006 - 2010, BA in Comparative Literature (High Honours), Istanbul Bilgi University, Turkey
Activities
Student member, European Asscoation of Social Psychology (EASP)
Student member, Society for Australiasian Social Psychology (SASP)
Student member, Society for Social and Personality Psychology (SPSP)
Student member, International Association for Cross-Cultural Psychology (IACCP)
Founding member, IACCP Next Generation Special Interest Group
Plannning Team Member, IACCP Culture and Psychology School