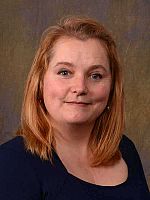 Mrs
Jacqueline Young
Biography
I am a qualified teacher with 21 years of practitioner experience in various state schools in East Sussex. I have a BA and MA in Human Sciences from Oxford University and a PGCE with QTS in Primary Education from the University of Hertfordshire.
I am currently studying for my doctoral degree alongside my work at the University of Sussex. My current research focuses on the development and manifestation of creative thinking skills in young children from backgrounds of disadvantage.
Role
Teaching Fellow in Education - contributor to undergraduate and postgraduate teaching programmes within the School of Education and Social Work; supervisor for MA researchers; doctoral researcher within education
Director of Recruitment and Admissions (School of Education and Social Work) - member of School Leadership Team
EYTS Lead tutor for MA in Early Years Education with Early Years Teacher Status (EYTS)
Fellow of the Higher Education Academy
Member of Centre for Teaching and Learning Research (CTLR); Centre for Innovation in Research in Childhood and Youth (CIRCY), Centre for Higher Education and Equity Research (CHEER)
Winner of University Award for Excellence in Teaching, January 2018
Winner of Student-Led Teaching Award, April 2017, for 'Outstanding Support for the Learning Experience of Students'
Community and Business
I work closely with schools and private, voluntary and independent Early Years settings across Sussex and the South East area.
Nationally, I represent Sussex at the Universities' 'Early Years Teacher Status Harmonisation' forum meetings.