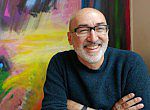 Dr
Michael Guida
Biography
I'm a cultural historian and tutor, teaching Media & Cultural Studies modules that include Sound, Culture and Society, Culture and the Everyday, Advertising and Social Change, and Digital Environments.
My AHRC-supported PhD examined how British nature was listened to and interpreted during the crash of modern life in the first half of the twentieth century. My supervisors were David Hendy and Michael Bull. This work is now being developed and expanded as a book for publication in early 2021 with Oxford University Press. The working title is: Listening to Nature: Wartime, Radio and Modern Life, 1914-45
Research interests
My research interests follow several paths within British culture, especially in the first half of the twentieth century, including the world wars:
Sensing the modern world: sound and listening as a way to understand ideas about modern life, technological change and warfare
The history of nature in culture: ideas about the place of nature in everyday life and how animals, especially birds, have been invested with meaning in urban and industrial environments
Media representations of the natural world: the pastoral, the rural and natural history represented in BBC radio and television broadcasting
Publishing and digital media background
Before returning to academia I spent many years working as a writer and editor in public sector and commercial environments. And most recently, for some 20 years, I worked as a researcher and strategist in the digtial media industry for organisations like the London School of Economics, SOAS, the British Council, the Department of Health, the NHS, Vodafone, Decca Music and British Airways.
Qualifications
PhD Media & Cultural Studies, University of Sussex, 2018.
MSc History of Science, Technology and Medicine, University College London/Imperial College, 2012.
MA Design for Interactive Media, University of Middlesex, 1996.
Activities
Publications
FORTHCOMING BOOK: 'Listening to Nature: Wartime, Radio and Modern Life, 1914-45' (OUP contract).
Michael Guida, '1928. Popular bird-watching becomes scientific: The first national bird census in Britain'. Public Understanding of Science, 2019, 8(5): 622–627. https://doi.org/10.1177/0963662519839555
Book review of Listening in the Field by Joeri Bruyninckx: 'Seeing Birdsong', The Senses and Society, 2019, 14: 100-103. https://doi.org/10.1080/17458927.2019.1569332
Michael Guida, 'Ludwig Koch's birdsong on wartime radio: knowledge, citizenship and solace' in Robert Bud, Paul Greenhalgh, Frank James, Morag Shiach (eds) Being Modern: The Cultural Impact of Science in the Early Twentieth Century (London: UCL Press, 2018). https://ucldigitalpress.co.uk/Book/Article/64/88/4856/
Michael Guida, 'Surviving twentieth century modernity: birdsong and emotions in Britain' in Hilda Kean and Philip Howell (eds) The Routledge Handbook of Animal-Human History (London: Routledge, 2018).
Michael Guida, 'Canaries on the Western Front' for Pet Histories, the AHRC Pets and the Family project blog (2018) https://pethistories.wordpress.com/2018/05/02/love-in-the-air-canaries-on-the-western-front/
Michael Guida, 'Britain's sonic therapy: listening to birdsong during and after the First World War' for Remedia history of medicine blog (2015) https://remedianetwork.net/2015/06/16/britains-sonic-therapy-listening-to-birdsong-during-and-after-the-first-world-war/
Conference presentations
'When popular bird-watching became scientific: co-operation and mass observation in Britain', Science Museum research semimar, London, 16th April 2019
'Listening publics after the Great War', 20s and 30s Network, London, 18th May 2018.
'"Ghostly gallows trees" Listening to nature during wartime', Soundcamp, London, 5th May 2018.
'A reordering of the air in war', Large Objects Moving in Air, CRISAP at London College of Communication, 8th January 2018.
'Birdsong and emotions in Britain', Animals and Emotions in History Workshop, Royal Holloway Univerity of London, 17th November 2017.
'The sounds of nature in support of early 1920s BBC broadcasting', Animal Utterance, Univeristy of Bristol, 26-27th May 2017.
'Sonic therapy: harmony for disordered nerves' Medicine and Modernity In the Long Nineteenth Century, University of Oxford, 10-11th September 2016
'British nature in support of John Reith's public service broadcasting, 1922-28', Technology, Environment and Modern Britain, UCL, 27th April 2016
'Birdsong and Englishness', Social History Society Conference, Lancaster University, 21st to 23rd March 2016
'Cultures of listening and the restoration of psychological health in early interwar Britain', Aftermath: The Cultural Legacies of WW1, King's College London, 23rd May 2015
'Nature cure: birdsong on the wireless during the Second World War', Being Modern: Science and Culture in the Early 20th Century, Institute of Historical Research, London, 24th April 2015
'Silence or music for healing in hospitals? The approaches of Florence Nightingale and Reverend Kill Harford', Postgraduate Medical Humanities Conference, University of Exeter, 25th July 2014
Study trips and workshops
Pasts, Presents and Futures of Medical Regeneration workshop at University of Leeds, with a team led by James Stark, 19th January 2016
Invited research paper to Karin Bijsterveld's Sounders Research Group, University of Maastricht, 1 April 2015
Music/Noise/Silence workshop series, Science Museum, Royal College of Music and University of Nottingham, February to April, 2015