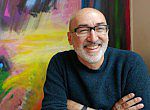 Mr
Michael Guida
Biography
Thesis title
Birds. Bombs. Silence. Listening to nature during wartime and its aftermath in Britain, 1914-45
Research summary
My thesis explores how the sounds, rhythms and quietude of the natural world were listened to and used by Britons to attenuate the anxieties and illnesses of modernity. Little is known of the strategies that were deployed for relief in the face of the sensory assaults of war and new media technologies in first half of the twentieth century. My study focuses on the sonic trench experiences of survival and emotional endurance; the role of the English countryside's quietude in the recovery from psychological trauma of the First World War; ideas of cosmic and earthbound nature's stillness and silence in the philosophy of early BBC radio; and the broadcasting of British birdsong during the Second World War. Ultimately this work seeks to illuminate the place of nature in times of societal stress and recovery.
Research interests
Sound and sensory studies; Digital cultures; War in society and culture; Nature in industrial modernity; Media history.
Supervisors
Professor David Hendy and Professor Michael Bull
Role
Doctoral tutor (office hours: Tuesday, 3-4pm)
PhD researcher in Media & Cultural Studies, AHRC scholarship, 2013-16
Co-organiser of the School's Doctoral Day conference, 2015
Co-organiser of fortnightly research-in-progress seminars for the School's PhD cohort, 2014-15
Member of Psycho-geography of Lewes project, Centre for Life History and Life Writing Research, 2015
Panel chair for Creative and Public Engagement workshop, Department of Anthropology, 26 September 2014
Postgraduate student representative for the School of Media, Film and Music at Sussex, 2013-14
Qualifications
MSc History of Science, Technology and Medicine, University College London/Imperial College, 2012. Dissertation: "Silencing the machines. Workplace noise and the threat to efficiency in Britain and the USA, 1900-1939" (distinction).
MA Design for Interactive Media, University of Middlesex, 1996
Before returning to academia I spent many years developing digital media ideas and experiences for the London School of Economics, SOAS, the British Council, the Department of Health, the NHS, Vodafone, Decca Music and British Airways. I am exploring sensory social history now to better understand contemporary relationships with technology, urban experience, and especially the place of the natural world in our lives today.
Activities
Publications
'Ludwig Koch's birdsong on wartime radio: knowledge, citizenship and solace'. Book chapter for a UCL Press collection called Being Modern: Science and Culture in the Early Twentieth Century. To appear in 2018.
'Surviving twentieth century modernity: birdsong and emotions in Britain'. Book chapter for Routledge Handbook of Animal-Human History. To appear in 2018.
Conference presentations
"Sonic therapy: harmony for disordered nerves," Medicine and Modernity In the Long Nineteenth Century, University of Oxford, 10-11th September 2016
"British nature in support of John Reith's public service broadcasting, 1922-28", Technology, Environment and Modern Britain, UCL, 27th April 2016
"Birdsong and Englishness", Social History Society Conference, Lancaster University, 21st to 23rd March 2016
"Cultures of listening and the restoration of psychological health in early interwar Britain," Aftermath: The Cultural Legacies of WW1, King's College London, 23rd May 2015
"Nature cure: birdsong on the wireless during the Second World War," Being Modern: Science and Culture in the Early 20th Century, Institute of Historical Research, London, 24th April 2015
"Silence or music for healing in hospitals? The approaches of Florence Nightingale and Reverend Kill Harford", Postgraduate Medical Humanities Conference, University of Exeter, 25th July 2014
Study trips and workshops
Pasts, Presents and Futures of Medical Regeneration workshop at University of Leeds, with a team led by James Stark, 19th January 2016
Invited research paper to Karin Bijsterveld's Sounders Research Group, University of Maastricht, 1 April 2015
Music/Noise/Silence workshop series, Science Museum, Royal College of Music and University of Nottingham, February to April, 2015