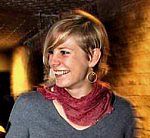 Dr
Andrea Brock
Biography
I completed my Bachelor in European Studies at Maastricht University in 2009 and a MSc in Research Methods, with focus on Global Environmental Governance from the VU University Amsterdam in 2013 (honours degree).
Before joining Sussex University in 2013, I worked at the the Institute for Environmental Studies at the VU University and a number of nongovernmental organisations.
I completed my PhD dissertation with the title "Conserving power: An exploration of biodiversity offsetting in Europe and beyond" in 2019.
I am involved in a number of social and ecological justice campaigns across the UK, and am particularly interested in the political economy of coal and fracking.

Role
Lecturer in International Relations and member of the Centre for Global Political Economy and STEPS Centre
Activities
Red Pepper: The Battle of Hambacher Forest, 20 September 2018 https://www.redpepper.org.uk/the-battle-of-hambacher-forest/
The Ecologist: Fracking democracy, criminalising dissent, 18 October 2018 (with Amber Huff, Judith Verweijen, Jan Selby, David Ockwell and Peter Newell https://theecologist.org/2018/oct/18/fracking-democracy-criminalising-dissent

E-International Relations: Biodiversity Banking: From Theory to Practise in Sabah, Malaysia. 23 July, 2015. http://www.e-ir.info/2015/07/23/biodiversity-banking-from-theory-to-practice-in-sabah-malaysia/
Conference paper: 'Neoliberal Natures? Biodiversity Banking in Malaysia and the UK'. Co-authored with Mareike Beck. Presented at: Global IR and regional Worlds, ISA's 56th Annual Convention. New Orleans, USA 2015
Conference paper: "Love for Sale" – Biodiversity Offsetting and the struggle to marketise nature in Sabah, Malaysia'. Presented at: Financialisation of Nature - Theory, Politics and Practice. University of Sussex, 2015
Conference paper: "Love for Sale" – Biodiversity Offsetting and the struggle to marketise nature in Sabah, Malaysia'. Presented at: Norwich Conference on Earth System Governance. University of East Anglia, 2014
Organisation of postgraduate conference: Critical Knowledge for Society, Transcending disciplinary boundaries. University of Sussex, 2014
Organisation of conference: Financialisation of Nature - Theory, Politics and Practice. University of Sussex, 2015
Chair of the Postgraduate Association (PGA) of the University of Sussex (2014/15)