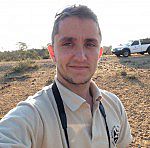 Mr
Daniel Ingram
Biography
Daniel's PhD focuses on quantifying the exploitation of wild terrestrial species globally.
Previously, Dan completed a master's degree in Ecology, Evolution and Conservation at Imperial College London in 2013. He worked with the PREDICTS Project, where his research focused mainly on quantifying the effects of agriculture on local biodiversity in the tropics.
In 2012 Dan worked as a research assistant in the Locomotor Ecology and Biomechanics Lab at the University of Birmingham and as a Seasonal Ecological Consultant for an engineering company. Dan holds a degree in Biology from the University of Birmingham where he investigated whether habitat type affected the activity budgets of Gopher Tortoises (Gopherus polyphemus) at Archbold Biological Station in Florida for his research project.
Role
Doctoral Researcher
Associate Tutor
Qualifications
2013 - Present DPhil Biology, University of Sussex
2012-2013 MSc Ecology, Evolution and Conservation, Imperial College London
2009-2012 BSc Biology, University of Birmingham
Activities
SCCS 2015 Poster - 'Indicators to track the offtake of terrestrial species'
SCCS 2014 Poster - '

Effects of Agriculture on Local Biodiversity in the Tropics: a Meta-analysis'

INTECOL 2013 Conference Talk – 'Effects of Agriculture on Local Biodiversity in the Tropics: a Meta-analysis' – Parkyn Bursary Grant