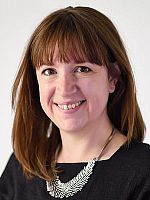 Dr
Emily Robinson
Role
Emily Robinson joined the University of Sussex in July 2013. She set up the Politics Wednesdays programme and runs the interdisciplinary Time Studies research cluster.
Emily was awarded her PhD by Goldsmiths College, University of London in 2010 and has since held fellowships at the universities of Nottingham and East Anglia. She is a Fellow of the Royal Historical Society, co-convenor of the Politics, Policy and Citizenship strand at the Social History Society, and a Commissioning Editor for Renewal: a journal of social democracy.
Before beginning her academic career, Emily was a think-tank researcher, specialising in democratic and constitutional reform. Her first degree was in History from Christ's College, Cambridge.