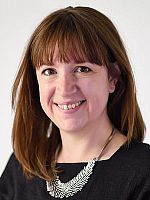 Dr
Emily Robinson
Role
Emily Robinson joined the University of Sussex as a Lecturer in Politics in July 2013. She set up the Politics Wednesdays programme and will be Undergraduate Director of Studies from 2018. She is the co-organiser of the interdisciplinary Politics of Time research cluster, with Lucy Finchett-Maddock.
Emily was awarded her PhD by the University of London in 2010 and has since held fellowships at the universities of Nottingham and East Anglia. She is a Fellow of the Royal Historical Society, a convenor of the Modern British History seminar series at the Institute for Historical Research and a Commissioning Editor of Renewal.
Before beginning her academic career, Emily was a think-tank researcher, specialising in democratic and constitutional reform. Her first degree was in History from Christ's College, Cambridge.