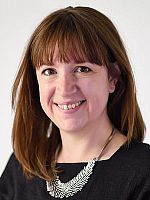 Dr
Emily Robinson
Role
Emily Robinson joined the University of Sussex in July 2013. She specialises in modern British cultural and political history.
Emily's latest book, The Language of Progressive Politics in Modern Britain (Palgrave, 2017) traces the word 'progressive' through modern British history, from the Enlightenment to Brexit, exploring both its shifting meanings and the contradictory political projects to which it has been attached. The book shows that popular understandings of the term have often been very far indeed from the Lib-Lab 'progressive tradition' which has dominated political and historical accounts.
Her first book, History, Heritage and Tradition in Contemporary British Politics: Past Politics and Present Histories was published by Manchester University Press in 2012. It explored the ways in which history is used and understood within British political parties, and how the political present is continually constructed as 'historic'.
Emily has also published work looking at the attractions of 'pastness' and the affective nature of historical research. She is currently working on the emotional politics of conservatism, Brexit, the Labour Lords and the monarchy.
Emily was awarded her PhD by Goldsmiths College, University of London in 2010 and has since held fellowships at the universities of Nottingham and East Anglia. She is a Fellow of the Royal Historical Society, co-convenor of the Politics, Policy and Citizenship strand at the Social History Society, and a Commissioning Editor for Renewal: a Journal of Social Democracy.
Before beginning her academic career, Emily was a think-tank researcher, specialising in democratic and constitutional reform. Her first degree was in History from Christ's College, Cambridge.