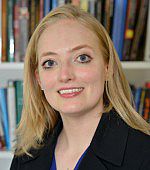 Dr
Hilary Kalmbach
Biography
Dr Hilary Kalmbach's first degree was from Princeton University, in Near Eastern Studies, during which she studied Arabic at Middlebury College's Summer Language School. She then held a Fulbright Fellowship in Damascus, Syria, and a Clarendon Fellowship, which funded her masters and doctoral studies at St Antony's College, Oxford. At Oxford, she worked with Dr Walter Armbrust (supervisor), Dr Eugene Rogan (instructor, examiner), and Dr James McDougall (examiner). Before coming to Sussex, she held a postdoctoral position, the Sir Christopher Cox Junior Fellowship at New College, Oxford.
Dr Kalmbach is the President of the Syrian Studies Assocation (SSA) for 2016 and 2017. She is also on the councils of the British Society for Middle Eastern Studies (BRISMES) and the British Society for Islamic Studies (BRAIS). She is a member of the Middle East Studies Association (MESA).
Role
Dr Hilary Kalmbach is Lecturer in Middle Eastern History in the History Department at the University of Sussex.
Dr Kalmbach is the founding director of MENACS, the Middle East and North Africa Centre at Sussex. She is also co-convenor of the joint degree in History and Sociology, and organiser of the History Department Work in Progress seminar.
**Dr Kalmbach is on research leave during the 2017-18 academic year.**
Community and Business
Dr Kalmbach was Sussex's representative on the UK International Unit's MENA Community of Practice. She is on the advisory board for a documentary film, The Light in Her Eyes. She has been interviewed for media and documentary projects related to the Middle East. She has also contributed essays related to her research and the region to e-magazines and business briefing services.