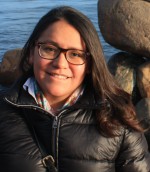 Dr
Maria Frabboni
Biography
Ph.D., 2009 (Queen Mary, University of London)
Specialist degree in Economic Sciences, 2004 (Alma Mater Studiorum - Universita' di Bologna, Italy)
LL.M., 2003 (University of Hamburg, Germany)
Bachelor degree in Economic Sciences, 2002 (Alma Mater Studiorum - Universita' di Bologna, Italy)
Dr Frabboni took parental leave in 2016-2017 and 2018-2019.
Role
Lecturer in Law
Community and Business
Dr Frabboni is an Executive Committe member of the British Literary and Artistic Copyright Association (BLACA), the UK national group of the International Literary and Artistic Association (ALAI). She is also a member of the Society of Legal Scholars (SLS). Dr Frabboni is involved in the activities of the European Intellectual Property Teachers Network (EIPTN).
Dr Frabboni is a member of the AHRC Peer Review College.
She is also a member of the Centre for Information Governance Research @SussCIGR.