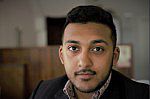 Mr
Ketan Jha
Biography
I was previously a law clerk at the United States Environmental Protection Agency, where I worked primarily on water law, with a focus on both regulatory/rule-making and enforcement issues. I also served as a law clerk at the District of Columbia Office of Tax and Revenue. I later served as a winter associate at J Sagar Associates (Band 1 in Chamber's for Banking & Finance) in Delhi.

I briefly reviewed a range of legal issues for Leonard Cheshire Disability as part of the first cohort of Change100 candidates and am eager to support Sussex students interested in the programme.
After working in private practice in Boston, I returned to research. In 2018 I was a funded Grotius Research Fellow & Scholar at the University of Michigan Law School, where I investigated the Roman law origins of the modern public trust doctrine.
From AY2019-20, I will be a full-time Lecturer in Law at the University of Brighton.
Role
PhD Student

Climate Change Litigation & Environmental Legal Theory

My thesis focusses on the potential role of climate change lawsuits, broadly construed, in altering fundamental legal doctrines such as standing and causation, with special consideration for what these changes might mean for how we think about environmental law as a discipline. The project further examines the crucial role of judicial interpretation of increasingly complex scientific data and modelling techniques and how they interface with these inchoate doctrinal developments.



Qualifications
LLB, Law with American Studies, University of Sussex, 2015
LLM, Environmental Law, University of Sussex, 2016 (Distinction)