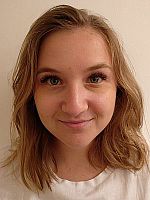 Miss
Ioana Dulcu
Biography
Ioana is a doctoral tutor and a second-year PhD student at the University of Sussex, as well as an Associate Editor for the Brief Encounters Journal.
Ioana's research focuses on the automatism doctrine in the criminal law and the level of voluntariness required to commit a criminal offence. Using hypnosis as a case study, her thesis adopts an interdisciplinary approach which incorporates psychology and the philosophy of action in order to formulate an alternative legal framework.
She holds an AHRC CHASE scholarship.
Role
Doctoral Tutor
Qualifications
LLM in Criminal Law and Criminal Justice, The University of Sussex (Distinction)
LLB in Law with American Studies (with a Study Abroad Year), The University of Sussex (First-Class Honours)