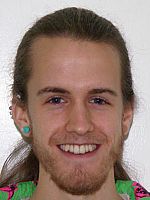 Mr
Justin Crow
Biography
I have recently graduated from the BSc Computer Science course at Sussex University, where I attained the highest graduating grade in my cohort. Additionally, I hold a 1st class honors degree in Fine Art from University of The Arts London: Central Saint Martins, which gives me a unique approach to conceptualising and tackling problems. Combined, the two have provided me with very nuanced insight and skills that often permits me to uncover hitherto unthought of means of solving issues.
Committed as I am to Computer Science, I am also passionate about my artistic practice, am a keen gardener and cook, enjoy swimming and walking, and read profusely on a wide variety of topics from philosophy to pulp-fiction.
Role
I am a current PhD student in the department of Informatics, working within the Text Analytics Group. My PhD focus is on event detection and situational awareness in social (text) data. Aditionally I contribute to various research projects within the lab, and on occasion assist with tutoring courses at both undergraduate and masters level.
Qualifications
For full details of qualifications and awards please see my LinkedIn profile.