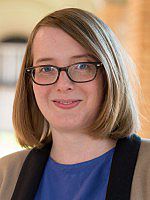 Dr
Chloe Porter
Post:
Senior Lecturer in English Literature (English)
Other posts:
Lecturer in English Literature (Centre for Early Modern and Medieval Studies)
Location:
ARTS B B229
Email:
C.Porter@sussex.ac.uk

Telephone numbers
Internal:
7126
UK:
01273 877126
International:
+44 1273 877126

Research expertise:
download vCarddownload vCard to your mobile
Biography
I studied for my BA, MA and PhD at the University of Manchester, where I also taught on early modern literature for a number of years. Following this, I was a lecturer in early modern literature firstly at Nottingham Trent University, then at King's College London, joining Sussex in 2012.
My research explores interactions between literary and visual cultures, with an emphasis on visual experience and early modern drama. I have published articles and essays on playwrights including Shakespeare, Lyly, Munday, Middleton and Webster. My first monograph, Making and Unmaking in Early Modern English Drama: Spectators, Aesthetics and Incompletion (Manchester University Press, 2013), examined playwrights' preoccupation with unfinished processes of visual construction, such as drawing, carving in wood, stone, bronze and wax, tailoring, and painting. The book asks what 'incomplete' and 'unfinished' mean in a Reformation context, and argues that wholeness and completion have transgressive associations in the context of early modern drama.
My work on early modern 'making' underpins my interest in histories of materiality and corporeality. In this vein, I have recently published an article on the concept of prosthesis in early modern drama, for a special issue of Textual Practice which I co-edited with Katie Walter and Margaret Healy.
I currently supervise a PhD student working on virginity in early modern English drama. I welcome PhD proposals on any aspect of early modern English drama and literature, and especially on the following: Shakespeare, Lyly, Greene; antitheatricality; visual and material cultures; spectatorship / audiences, aesthetics, idolatry, iconoclasm; histories of vision, ideas about 'making', 'things' and materiality, word and image debates; the body, gender, anthropomorphism, animality, automata and the posthuman.
Role
Senior Lecturer in English Literature 1500-1700