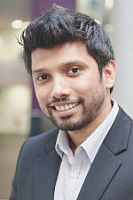 Dr
Vikrant Shirodkar
Biography
Vikrant joined the University of Sussex Business School in 2012. His academic qualifications include - PhD in Management (University of Kent), MSc in Information Technology, Management and Organisational Change (Lancaster University) and Bachelor of Engineering (Mumbai University, India).
Vikrant's primary research interest is on business - government relationships in an international business context - particularly on lobbying and other forms of corporate political activity. He is also interested in the institutional and strategic drivers of Multinational Enterprises' financial performance, and in the business context of emerging markets. Vikrant's research has appeared in leading journals such as the British Journal of Management, International Business Review, Management International Review, Journal of International Management and Journal of Business Ethics. His research has also won awards such as the Danny Van Den Bulcke Best Paper award at the 2016 European International Business Academy (EIBA) conference, and the Research in International Business and Finance best paper award at the 2018 Academy of International Business UK and Ireland chapter conference.
Vikrant is a Fellow of the Higher Education Academy and an Executive Committee member of the Academy of International Business UK and Ireland (AIB UK&I) chapter. He was the Organising Chair of the AIB UK&I 2019 Conference. At Sussex, he teaches various modules related to International Business. He also supervises Research Projects for undergraduate and postgraduate students studying International Business and Management courses. Besides Sussex, he has also taught at the Imperial College London, University of Kent, Brunel University London and University of Bradford. Prior to academia, Vikrant worked as a consultant with Infosys Technologies Ltd., where he gained extensive practical experience in the offshore outsourcing of IT services.
Role
Senior Lecturer (Associate Professor) in International Business
Course Director - BSc International Business