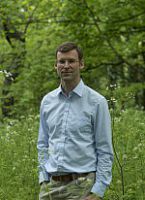 Prof
Jorn Scharlemann
Biography
After completing a PhD on eggshell thickness declines at the Department of Zoology, University of Cambridge, UK, I worked as a Research Biologist for the RSPB studying the impacts of agriculture on biodiversity. From 2003-2005 I was a post-doc at the Department of Zoology, University of Oxford modelling deer, ticks and tick-borne diseases, followed by a year as a post-doctoral research fellow at the Smithsonian Tropical Research Institute, Panama. From 2007-2012 I was the Senior Scientist at UNEP World Conservation Monitoring Centre, Cambridge, UK. In 2012 I moved to the University of Sussex as Reader in Ecology & Conservation, and became Professor of Conservation Science in 2017. From 2015-2017 I was the Interim Director of the Sussex Sustainability Research Programme.
Role
Professor of Conservation Science
Community and Business
I am the University of Sussex representative on The Living Coast Biosphere Research & Monitoring working group.