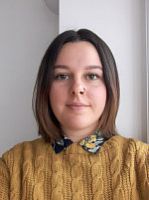 Dr
Gillian Love
Biography
Gillian Love is a Teaching Fellow in the Department of Sociology. She teaches social theory (Themes and Perspectives II), the sociology of health and illness (Health Across the Lifecourse; Medicine and the Body), research methods (DSRI and DSRII) and gender studies.
She supervises both UG and PG dissertations.
She has previously worked as a Research Fellow on the Universities Supporting Victims of Sexual Violence project.
Gillian completed her ESRC-funded PhD at Sussex in 2017. Her thesis was entitled 'Contextualising Abortion: A Life Narrative Study of Abortion and Social Class in Neoliberal England.'
Role
Teaching Fellow in Sociology
Community and Business
In her role as LGBT Volunteer Champion for Survivors' Network, Gillian was part of a research team investigating the barriers LGBT and BME people face in accessing services at Survivors' Network, a rape crisis charity in Brighton. The project ran from October 2014 - October 2015.
Findings of the project were published in the journal Critical and Radical Social Work.