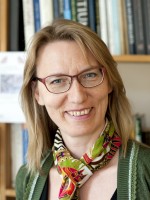 Dr
Bente Bjornholt
Biography
Biography
Bente graduated with a PHD in Byzantine art history from Queens University of Belfast in 2002. Her thesis looked at images of spectacle in the Madrid Skylitzes manuscript and explored the way in which public events such as entertainment, punishments, victory celebrations and relic ceremonies were constructed in relation to the textuall description. From 2002-2005 Bente was a Research Fellow in the AHRB Centre for Byzantine Cultural History at Sussex and was responsible for the construction of the database of the visual contents of the Madrid Skylitzes manuscript. From May 2006-Aug 2009 she was the Research Facilitator in the Sussex Institute at the University and 2007-2011 she was the Network Facilitator on the Leverhulme International Network of the Composition of Byzantine Mosaic Glass Tesserae which is housed in the Department of Art History. She now works part time for the Research and Enterprise division.
Role
Bente is a Research Development Officer in the Research and Enterprise division of the Univerisity.
Bente also works for Art History. She was the Network Facilitator for the Leverhulme Network of the Composition of Byzantine Mosaic Glass Tesserae. In this role she organised the twice-yearly workshops and other events, and managed and produced the outputs of the Network: online databases of chemical analysis of Byzantine glass mosaics; of Byzantine sites of glass mosaics; of primary and of secondary literature on Byzantine mosaics glass; and an online glossary of mosaic terms used by scientists, archaeologists and art historians. Bente also teaches in the department of art history at Sussex.