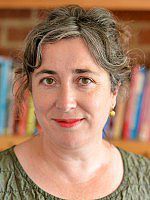 Prof
Rachel Thomson
Post:
Professor of Childhood & Youth Studies (Social Work and Social Care)
Other posts:
Director of Research and Knowledge Exchange (School of Education and Social Work)
Member (Sussex Humanities Lab)
Location:
ESSEX HOUSE EH 210
Email:
R.Thomson@sussex.ac.uk

Telephone numbers
Internal:
6689
UK:
01273 876689
International:
+44 1273 876689

Research expertise:
download vCarddownload vCard to your mobile
Biography
Rachel Thomson is a sociologist by discipline whose research interests include the study of the life course and transitions, as well as the interdisciplinary fields of gender and sexuality studies. She is a methodolgical innovator and is especially interested in capturing lived experience, social processes and the interplay of biographical and historical time.
Key projects
Reanimating data: Experiments with people, places and archives. Funded by the ESRC Transforming Social Science initiative and undertaken in collaboration with Niamh Moore (Edinburgh), Sharon Webb & Ester McGeeney (Suees) and Alison Ronan (Feminist Webs). Archiving, revisiting and reanimating the data from the 1988-90 Women Risk and AIDS project. What changes and what stays the same over 30 years for young women, feminism and sexual health?
Everyday childhoods: Funded by the AHRC and the ESRC we have followed panels of children and young people over time to trace everydy cultures and everyday digital childhoods using multi-media methods. The multimedia showcase can be accessed at http://blogs.sussex.ac.uk/everydaychildhoods/
Making Modern Mothers: Longitudinal and intergenerational investigation into the transition to new parenthood, funded by the ESRC. See http://modernmothers.org/
Inventing Adulthoods: a landmark qualitative longitudinal study of 100 young people's transitions to adulthood over 15 years funded by the ESRC. http://www.restore.ac.uk/inventingadulthoods/
New frontiers in qualitative longitudinal research: A methodological innovation network funded by the National Centre for Reseach Methods that ran between October 2012 -13, involving a series of 5 seminars and workshops and resulting in a special issue of the International Journal for Social Research Methods March 2015. For further information see http://www.sussex.ac.uk/esw/circy/research/currentresearch/newfrontiers
PhD supervision.
Rachel is an experienced doctoral supervisor and examiner and welcomes approaches from qualified applicants in her areas of research expertise.
Role
Professor of Childhood and Youth Studies, elected member of the Academicy of Social Sciences, member of CIRCY (the Centre for Research and Innovation in Childhood and Youth) andthe Sussex Humanities Lab.