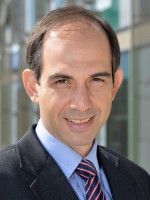 Biography
Emmanuel graduated first from the University of Athens, Department of Economics, in 1993. Following his BSc in Economics, he went on to obtain MSc and PhD in Economics from the University of Warwick in 1994 and Queen Mary College, University of London, in 1998 respectively. Emmanuel has been a member of staff of numerous Universities both in UK and Greece. Previous appointments include the University of London, the Cass Business School of City University and University of Macedonia. He also served as a senior economist in the Council of Economic Advisors of the Hellenic Ministry of Finance and Economics, where he had the opportunity to participate in Economic Policy Forums such as the Euro-group and ECFIN and was an Alternate Member for Greece in the EFC, Brussels.
Role
Emmanuel is Subject Head in Banking. He serves as convener for the MSc in Banking and Finance, a dynamic course that he founded in 2012, and also as convener for the MSc in Management and Finance. Emmanuel is actively seeking to supervise suitable PhD students in banking and finance. He is a frequent speaker in international conferences and policy forums in the area of finance.
Community and Business
Emmanuel is a frequent speaker in international conferences and policy forums in the area of finance and has served as an advisor on issues related to fiscal sustainability and risk management to the government and commercial banks.
Emmanuel's research gives emphasis on Bank efficiency measurement (SFA, DFA, TFA, DEA, FDH), bank lending, dynamics of UK's insurance underwriting regimes, forecasting in finance and business economics, behavioural finance (symmetric-asymmetric loss functions), credit risk and financial stability, sovereign debt crisis in the euro area, business economics (industrial productivity growth decomposition), applied econometrics (non-linearities), Bayesian econometrics (transition probability matrixes).
Emmanuel's teaching is focusing on financial derivatives and applied econometrics with reference to banking and finance.
Student Consultation
My office and feedback time is Friday 9-10:30. Jubilee Room 312.