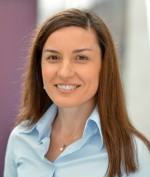 Dr
Mirela Xheneti
Biography
Mirela Xheneti joined the University of Sussex in September 2011 from Kingston University where she was a Researcher at the Small Business Research Centre (SBRC). Mirela completed her PhD studies at the School for Policy Studies, University of Bristol. She also holds an MBA (Distinction) from Staffordshire University. Mirela has a special interest in entrepreneurship and small business development in contexts undergoing instiutional change and especially the role of institutions and policies in creating a framework for productive entrepreneurial activities. Mirela has worked on different projects that explore the links between entrepreneurship and regional/local development and has conducted both qualitative and quantitative research.
Mirela has been recipient of research grants from the British Academy (2009), the European Commission (2010), the Research and Knowledge Exchange Fund of the Institute of Small Business and Entrepreneurship (ISBE) (2010) and most recently, the Centre for Economic Policy Research (CEPR) and the Department for International Development (DFID) (2014, 2015).
Mirela currently serves on the Board of the European Council of Small Business and Entrepreneurship (2017-20).
She also holds a Postgraduate Certificate in Teaching and Learning in Higher Education awarded by the University of Sussex in 2013.
Role
Senior Lecturer (Associate Professor) in Entrepreneurship and Small Business
Director of the MSc in Entrepreneurship and Innovation
Fellow of the Higher Education Academy
Community and Business
Mirela has recently been involved in a number of policy reviews of the strengths and weaknesses of policy programmes to support youth entrepreneurship as part of an OECD-European Commission Project on Inclusive Entrepreneurship in Europe. For the reports on Lithuania and Spain, Mirela has contributed to, please see the links below:
http://www.oecd.org/cfe/leed/Lithuania-Youth-Entrepreneurship.pdf
http://www.oecd.org/employment/leed/Spain-Youth-Entrepreneurship-FINAL.pdf