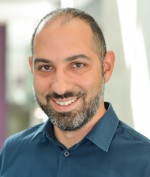 Dr
Andreas Kornelakis
Biography
Andreas Kornelakis is a Visiting Senior Research Fellow at the University of Sussex's Future of Work Research Hub and a Senior Lecturer in International Management at King's College London. He holds a PhD in European Political Economy (London School of Economics) and an MSc in International Employment Relations & Human Resource Management with Distinction (London School of Economics). He has been involved in large multi-partner European projects on the Dynamics of National Employment Models (DYNAMO) and on Reconciling Work and Welfare in Europe (RECWOWE). Andreas has been a Visiting Researcher at the European University Institute (Florence) and a Visiting Fellow at the Whitaker Institute of Innovation & Social Change in the National University of Ireland (Galway).
His research has been published in highly regarded academic journals such as: British Journal of Industrial Relations; Work, Employment & Society; Business History; European Journal of Industrial Relations; Economic and Industrial Democracy, etc. He has also obtained several prizes and awards including the Mike Rose Prize for Best Paper at the 2010 Work, Employment & Society Conference. He has refereed for a wide range of journals and publishers including: Organization Studies, The International Journal of Human Resource Management, Sociological Research Online, Journal of Common Market Studies, etc.
Andreas has gained research funding from various sources including: Propondis Foundation, the European Union, Bodossaki Foundation, and the National Bank of Greece. Memberships of learned societies include: the Society for the Advancement of Socio-Economics (SASE), the European Group for Organizational Studies (EGOS), the British Universities Industrial Relations Association (BUIRA), and the British Sociological Association (BSA).
PhD supervision: My research interests are in the areas of Employment Studies, Comparative and International Human Resource Management, Industrial Relations; Comparative Political Economy and Comparative Business Systems. Particular topics of PhD project proposals may include: labour market institutions; trade unions; employee voice; pay determination and reward systems; new forms of flexibility at work; industrial relations in multinational enterprises; human capital, skills & training; job quality; high performance work systems; employee welfare; and workplace innovation. Informal inquiries for doctoral supervision are most welcome; if you would like to contact me about a PhD proposal or application, please email me.