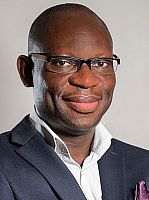 Dr
Chux Daniels
Post:
Research Fellow (SPRU - Science Policy Research Unit)
Location:
JUBILEE BUILDING JUB-388
Email:
C.U.Daniels@sussex.ac.uk
Personal homepage:
cdaniels

Research expertise:

Evidence and Policy

,

industrial policy

,

Innovation Policy

,

Innovation policy issues

,

Mixed methods

,

Organisational Change

,

Policy

,

policy design

,

policy evaluation

,

policy mix

,

public policy

,

qualitative research methods

,

Quantitative methods

,

routines processes

,

Science and Policy-Making

,

Science and technology policy

,

science policy

,

skills

,

South and Southern Africa

,

Sub-Saharan Africa

,

Transformative Innovation

,

UK science & innovation policy

,

West Africa

download vCarddownload vCard to your mobile
Biography
Chux Daniels, PhD is currently a Research Fellow in Science, Technology and Innovation (STI) Policy SPRU (Science Policy Research Unit), University of Sussex, UK. He joined the University of Sussex in 2011. In addition to research and teaching, he supervises Doctoral researchers and MSc students, and co-convenes the Innovation Systems module at SPRU. He is the coordinator of SPRU's Africa Engagement Programme.
His on-going research projects include:
Transformative Innovation Policy Consortium (TIPC)

. This research brings together global actors to examine and research respective innovation systems to explore the future of innovation policy – its foundation, formulation and governance. Alongside SPRU, the founding research organisations to join the project are from Colombia, Norway, South Africa, Sweden and Finland.

Transformative Innovation and 4th Industrial Revolution
Alongside research and teaching, Chux is involved in active STI policy work. He has in recent years provided STI policy research and services to organisations that include: the United Nations Conference on Trade and Development (UNCTAD), the UNited Nations Economic and Social Commission for Asia and the Pacific (UNESCAP), and the World Bank. His services to the African Union Commission include the development of a monitoring and evaluation (M&E) framework for the continental "Science, Technology and Innovation Strategy for Africa" (STISA-2024), research, training and capacity building.
His country experience include: the United Kingdom, Africa and MENA (Bostwana, Ghana, Egypt, Ethiopia, Kenya, Namibia, Nigeria, Rwanda, Senegal, South Africa, and Tanzania), Asia-Pacific (Bangladesh, Indonesia, Malaysia, Pakistan), and the US Virgin Island. In 2017 and 2018, he worked with South African government in developing the country's White Paper on Science, Technology and Innovation. He is currently working with the Government of Kenya in developing the country's STI policy.
Chux is a visiting fellow at various research, academic and policy instiutions, including the University of Pretoria, South Africa. His career spans a wide range of sectors that include ICT, management, international business and consultancy, energy and construction, and international development.
Social media: LinkedIn: www.linkedin.com/in/chuxdaniels; Twitter @chuxdaniels
Role
Current roles:
Research Fellow in Science, Technology, and Innovation

Co-convener: Innovation Systems Module at SPRU

Coordinator: SPRU's Africa Engagement Programme
Community and Business
Community: volunteering. Business: research and consultancy in science, technology, innovation and public policy
Qualifications
PhD (Science and Technology Policy Studies) at SPRU, University of Sussex; MBA (Strategic Management); MSc (Business Information Systems and Management); BSc (Agriculture)