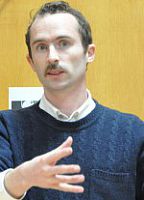 Dr
Cian O'Donovan
Biography
Cian is a Research Fellow at SPRU. His research interests include innovation, automation and democracy, the emergence of innovation systems through time and space, and the role of institutions in innovation and social change. He is currently examining automation and digital fabrication technologies by mapping the happiness of makers, coders and craftspeople with respect to the tools they use, such as 3D printers, digital CNC, laser cutters and CAD/CAM. This work is part of Responsible Innovation and Happiness: A New Approach to the Effects of ICTs with colleagues at SPRU and TIK Centre (Centre for Technology, Innovation and Culture) at the University of Oslo. Most recently Cian was Network Coordinator of The Nexus Network.
Cian is a member of the Sussex Energy Group where he completed his Phd. His thesis, co-funded by the ESRC and the University of Sussex, examined the emergence of low-carbon innovation systems in new locations (supervisors Adrian Smith and Ed Steinmueller). Specifically he looked at the growth of wind energy in Ireland over the past 25 years and asking why some countries are capable of "rapid catch-up" despite a low scale indigenous industrial base.

Like lots of people, Cian is all for keeping carbon dioxide trapped inside fossil fuels buried in the ground. But some questions as to how we do that remain. Such as who profits from this transition? Which is more important, cancer research, poverty alleviation or wind farms? And who decides the future anyway? If these transitions are so great, how come we're not all living in the future already. Ultimately, who pays and who gains?
In attempting to answer these questions Cian employs and is attempting to build on perspectives taken from the socio-technical transitions literature, technological innovation systems and capabilities and catch-up.
Cian is former technology director for 38 Degrees, the UK's largest people powered campaigning movement where he continues to occasionally advise on technology for social change. At 38 Degrees he successfully campaigned to halt the privatisation of swathes of England's woodlands, took on the big energy companies and their big profiteering, and was constantly awed by hundreds of thousands of 38 Degrees members who acting together affected real change throughout the UK.
Cian is the founding chairperson of a people powered organisation for change in Ireland called Uplift. He tweets @cian.
Role
Research Fellow at SPRU - Science Policy Research Unit
Qualifications
PhD Science and Technology Policy. SPRU – Science Policy Research Unit, University of Sussex.
MSc. Sustainability and Management. University of London, Royal Holloway.
BA (mod) Information and Communications Technology. Universtiy of Dublin, Trinity College.