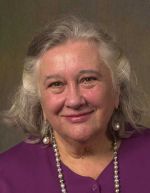 Prof
Maggie Boden
Post:
Research Professor of Cognitive Science (Informatics, Centre for Cognitive Science)
Location:
CHICHESTER 1 CI162
Email:
M.A.Boden@sussex.ac.uk

Telephone numbers
Internal:
8386 or 2405
UK:
01273 678386 or 01273 606755 ext. 2405
International:
+44 1273 678386 or +44 1273 606755 ext. 2405

Research expertise:
download vCarddownload vCard to your mobile
Biography
She was the founding-Dean of Sussex University's School of Cognitive and Computing Sciences, a pioneering centre for research into intelligence and the mechanisms underlying it -- in humans, other animals, or machines. The School's teaching and research involves an unusual combination of the humanities, science, and technology. Philosophy is studied within the School both as an undergraduate major and as a postgraduate (MA and DPhil) subject.
Professor Boden holds the following academic honours, by election:
Fellow (and former Vice-President) of the British Academy -- and Chairman of their Philosophy Section until July 2002.
Member of the Academia Europaea.
Fellow of the American Association for Artificial Intelligence (AAAI).
Fellow of the European Coordinating Committee for Artificial Intelligence (ECCAI).
Life Fellow of the UK's Society for Artificial Intelligence and the Simulation of Behaviour.
Member of Council of the Royal Institute of Philosophy.
Former Vice-President (and Chairman of Council) of the Royal Institution of Great Britain.
Outside Sussex, she has lectured widely, to both specialist and general audiences, in North and South America, Europe, India, the USSR, and the Pacific. She has also appeared on many radio/TV programmes, in UK and elsewhere. Her work has been translated into twenty foreign languages.
She was awarded an OBE. in 2001 (for "services to cognitive science"), and besides her Cambridge ScD, She has three honorary doctorates (from Bristol, Sussex, and the Open Universities).


Here is her own description of "What I Do":
This Is What I Do
I do lots of different things, as befitting the interdisciplinary atmosphere of COGS. All of them relate to my abiding interest (since I was a Sixth-Former) in the human mind: what it is, how it works, and how it relates to the brain and to evolution. All these questions straddle individual "disciplines."