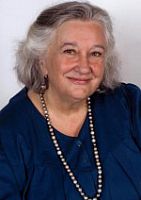 Prof
Maggie Boden
Biography
Margaret A. Boden OBE ScD FBA is Research Professor of Cognitive Science at the University of Sussex, where she helped develop the world's first academic programme in cognitive science. She holds degrees in medical sciences, philosophy, and psychology, and integrates these disciplines with AI in her research.

She is a Fellow of the British Academy, and of the Association for the Advancement of Artificial Intelligence (and its British and European equivalents).

Her work has been translated into twenty languages. Her books include The Creative Mind: Myths and Mechanisms (1990/2004) and Mind as Machine: A History of Cognitive Science (2006). (AI, Its Nature and Future is in press.)

She has two children and four grandchildren, and lives in Brighton.