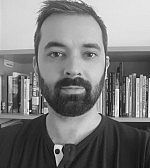 Dr
Paul Gilbert
Role
My PhD in Social Anthropology (2011-2016) was funded by a +3 ESRC/Sussex DTC Studentship, and supervised by Professor Katy Gardner (LSE, 50%) and Dr Dinah Rajak (Sussex, 50%). Before coming to Sussex, I completed a BA Honours in Anthropology (First Class) at Durham University (2006-09), and received an MSc in Ethnobotany (Distinction) from the University of Kent (2009-10).
My doctoral research explored the processes through which geological prospects are transformed into objects of financial speculation and, eventually, into 'money mines' for investors in the junior mining sector. Fieldwork for my PhD was carried out in London and in Dhaka, and I have previously carried out shorter periods of fieldwork in East Kent and in Tabubil, Papua New Guinea.
Alongside my PhD, I have been involved in a collaboration between the London School of Financial Arts and the Royal Anthropological Institute, examining visualization and representation in/of financial markets.

I write regularly for the Sociology Lens blog on current affairs related to anthropology and sociology, am an editor at Rethinking Economics, and occasionally contribute to the LSE Review of Books.
Teaching
During the Academic Year 2015-16 I have taught on the 3rd Year Development module 'Development, Business & CSR' (L2131S), and have been a visiting lecturer at the University of Birmingham and Brunel University London.
Previously, I have been an Associate Tutor at Sussex for the 2nd Year Anthropology module 'Politics and Power' (L6071), and the 2nd Year Geography/Development module 'Environmental Perspectives on Development' (L2103).
Publications
Gilbert, P. R. 2015. Trouble in Para-Sites: Deference and Influence in the Ethnography of Epistemic Elites. Anthropology in Action, 22 (3): 51–61. DOI: 10.3167/aia.2015.220307

Gilbert, P. R. 2015. Commentary: The Ranking Explosion. Social Anthropology, 23 (1): 83-86. DOI: 10.1111/1469-8676.12104

Haywood, G., Nilsson, J., Franklin, M., Gilbert, P., Krafve, L. J., Linden, L., MacGillivray, M. and Meckin, R. 2014. Valuation Studies: A Collaborative Valuation in Practice. Valuation Studies, 2 (1): 71-85. DOI: 10.3384/vs.2001-5992.1421. Open Access.
Gilbert, P. R. 2013. Deskilling, agrodiversity and the seed trade: a view from contemporary British allotments. Agriculture and Human Values, 30 (1): 101-114. DOI: 10.1007/s10460-012-9380-z.
Gilbert, P. R. 2012. The development of difference: Social change around the Ok Tedi Copper and Gold Mine, Papua New Guinea. Durham Anthropology Journal, 18(1): 61-114. Open Access.
Selected Book Reviews
Gilbert, P. R. 2015. Book Review: 'Mysteries and Conspiracies' by Luc Boltanski. Journal of the Royal Anthropological Institute, 21 (4): 958–959. DOI: 10.1111/1467-9655.12326
Gilbert, P. R. 2015. Book Review: 'Mining Capitalism: The Relationship Between Corporations and their Critics' by Stuart Kirsch. Social Anthropology, 23 (2): 243-245. DOI: 10.1111/1469-8676.12137

Gilbert, P. R. 2014. Book Review: 'Fortune Tellers: The Story of America's First Economic Forecasters' by Walter E. Friedman. Economic Sociology: The European Electronic Newsletter, 15 (3): 50-52. Open Access.
Gilbert, P. R. 2014. Book Review: 'Flammable Societies: Studies on the Socio-Economics of Oil and Gas' by John-Andrew McNeish and Owen Logan (eds). Capital & Class, 38 (1): 259-261. DOI: 10.1177/0309816813514899.