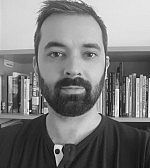 Dr
Paul Gilbert
Post:
Senior Lecturer in International Development (Anthropology, International Development)
Location:
ARTS C C205
Email:
P.Gilbert@sussex.ac.uk

Telephone numbers
Internal:
7095
UK:
01273 877095
International:
+44 1273 877095

Research expertise:

anthropology of global capitalism

,

anthropology of money and finance

,

Bangladesh

,

Corporate Social Responsibility and Ethical Trade

,

Illicit Finance

,

Inequality

,

International Development

,

mining and extractive industries

,

Natural resources

,

Political Ecology

,

Postcolonial/Decolonial theory

,

private sector development

,

Science And Technology Studies

,

United Kingdom

download vCarddownload vCard to your mobile
Biography
I joined the School of Global Studies as a Lecturer in International Development in 2017, having previously taught at the University of Brighton (Human Geography & Sustainable Development), University of Birmingham (Gender & Development) and Brunel University London (Anthropology).
I have carried out long-term ethnographic fieldwork in Bangladesh and the United Kingdom, as well as shorter periods of research in South Africa and Papua New Guinea. My doctoral research was concerned with tracing out the forms of legal, financial and geological expertise implicated in the production of extractive industry frontiers in Bangladesh. My current research expands on this concern with extractive industries, finance, expertise and development in the following areas:
Environmental justice, environmental defenders, extractive industries & energy futures
Consultancy, outsourcing, and private sector recipients of Official Development Assistance
International investment law, colonial legacies in development finance, and political risk insurance
Ethnographic, investigative and arts-based methods in elite settings
Further information about current and recent projects can be found on my Research and Publications pages. My research interests are reflected in my teaching focus. I currently teach an undergraduate course on Wealth, Inequality & Development, as well as sessions on resource-based development, and I teach across the MA in Environment, Development & Policy. Further information on teaching and doctoral supervision is available here.
Role
Qualifications
PhD in Social Anthropology, University of Sussex (funded by an ESRC +3 Studentship)
MSc in Ethnobotany, University of Kent (Distinction)
PGCert in Teaching & Learning in Higher Education, University of Brighton (Distinction)
BA Hons in Anthropology, Durham University (First Class)