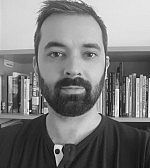 Dr
Paul Gilbert
Post:
Lecturer in International Development (Anthropology, International Development)
Location:
ARTS C C205
Email:
P.Gilbert@sussex.ac.uk

Telephone numbers
Internal:
7095
UK:
01273 877095
International:
+44 1273 877095

Research expertise:

anthropology of global capitalism

,

anthropology of money and finance

,

Bangladesh

,

Corporate Social Responsibility and Ethical Trade

,

Illicit Finance

,

International Development

,

mining and extractive industries

,

Natural resources

,

Political Ecology

,

Postcolonial/Decolonial theory

,

private sector development

,

Science And Technology Studies

,

United Kingdom

download vCarddownload vCard to your mobile
Biography
I joined the School of Global Studies as a Lecturer in International Development in 2017, having previously taught at the University of Brighton (Human Geography & Sustainable Development), University of Birmingham (Gender & Development) and Brunel University London (Anthropology).
My research interests fall into two related areas. Firstly, drawing on approaches from political ecology and science & technology studies, my research explores the financing of extractive industry frontiers and 'high-carbon' futures. I am also working on a collaborative project researching narratives of violence and the experience of environmental defenders around 'sustainable' developments.
Secondly, engaging with the anthropology/sociology of finance and with work in political economy, I carry out research into: speculative development finance; international investment law and extractive industry developments in post-colonial settings; and private-sector organisations pursuing 'aid-funded business' opportunities.
I also maintain an interest in the ethics and politics of ethnographic fieldwork in elite contexts.
I have carried out long-term ethnographic fieldwork in Bangladesh and the United Kingdom, as well as shorter periods of research in South Africa and Papua New Guinea.
See here for more information on current research projects, and here for a list of publications. Information on teaching and doctoral supervision is available here.
Role
Qualifications
Paul holds a PhD in Social Anthropology from the University of Sussex (funded by an ESRC +3 Studentship), an MSc in Ethnobotany from the University of Kent (Distinction), a PGCert in Teaching & Learning in Higher Education from the University of Brighton (Distinction), and a BA in Anthropology from Durham University (First Class). He is a Fellow of the Higher Education Academy.