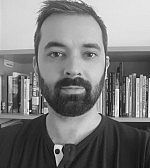 Dr
Paul Gilbert
Post:
Lecturer in International Development (Anthropology, International Development)
Location:
ARTS C C205
Email:
P.Gilbert@sussex.ac.uk

Telephone numbers
Internal:
7095
UK:
01273 877095
International:
+44 1273 877095

Research expertise:

anthropology of global capitalism

,

anthropology of money and finance

,

Bangladesh

,

Corporate Social Responsibility and Ethical Trade

,

Illicit Finance

,

International Development

,

mining and extractive industries

,

Natural resources

,

Postcolonial/Decolonial theory

,

private sector development

,

Science And Technology Studies

download vCarddownload vCard to your mobile
Biography
Paul Gilbert joined the School of Global Studies as a Lecturer in International Development in 2017. He had previously taught at the University of Birmingham, the University of Brighton and Brunel University, and been a Researcher at the Centre for New Economies of Development and an ESRC-POST Postgraduate Fellow at the Parliamentary Office of Science & Technology
Paul holds a PhD in Social Anthropology (2016) from the University of Sussex, an MSc in Ethnobotany (2010) from the University of Kent, and a BA in Anthropology (2009) from Durham University. He is a Fellow of the Higher Education Academy and has a PGCert in Teaching & Learning in Higher Education from the University of Brighton (2017). Paul is also an alumnus of the Illicit Finance Journalism Programme.
His research is concerned with the role of private sector organizations in development, focusing on extractive industry finance and the making of new resource 'frontiers'. Additional areas of interest include: the politics of ethnographic research in elite settings; ethics and expertise in the junior mining sector; finance and infrastructure development; colonial institutions and development finance; economic expertise in public culture; and critical/decolonial pedagogies.
Paul's current research projects are concerned with expertise and influence in the political risk industry (funded by a BA/Leverhulme Small Research Grant), and ethics and regulation in the junior mining sector.
Role
Lecturer in International Development