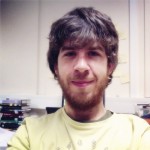 Mr
Ryan Burns
Biography
Ryan completed a BA in International Communications Studies and an MA in Critical Theory and Cultural Studies, both at the University of Nottingham. He began his PhD in Media and Cultural Studies at Sussex in 2011 and successfully defended his thesis in June 2015.
He taught from 2011-2015 as an Associate Tutor at the University of Sussex and is now Lecturer in Media, Industries and Communication at the University of Brighton.
He is co-editor of a book about tablet computers, The Tablet Book, published in Spring 2015.
Role
Doctoral Researcher in the Department of Media and Film
Associate Tutor in the Department of Media and Film
Member of the Sussex Centre for Cultural Studies
Member of the Centre for Material Digital Culture
Qualifications
BA (Hons) International Communications Studies, First Class (University of Nottingham, 2010)
MA Critical Theory and Cultural Studies, Distinction (University of Nottingham, 2011)
PhD Media and Cultural Studies (University of Sussex, 2015)
Activities
Organiser: The Tablet Symposium (April 2013)
Organiser: Sussex Media and Film PhD Research in Progress Seminars and Doctoral Day (2012-13)
Organiser: TRASH postgraduate conference (September 2012)
Organiser: the CMDC Reading Group (2011-12, 2012-13, 2013-14)
Associate Editor: Excursions Journal (2011- )
Editorial Board: REFRAME academic digital publishing platform (2012- )
PhD Student Mentor: School of Media, Film and Music (2012-13, 2013-14)