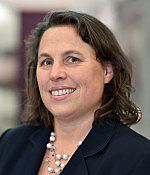 Ms
Isabel Fischer
Biography
Isabel Fischer joined the University of Sussex Business School in 2010. In her teaching and research Isabel focusses on social responsibility, business ethics and organisational practices linked to the Sustainable Development Goals (SDGs). Isabel integrates insights from theory with her extensive industry experience gained by managing global project teams at American Express and Visa for over 20 years. Isabel is a doctoral candidate in the area of Management Education (Viva December 2019) and has been invited to present on her research at major national and international conferences. Isabel serves as a peer-reviewer on two academic journals (Decision Sciences Journal of Innovative Education and The International Journal of Management Education).
Between 2015 and 2019 Isabel managed two school portfolios, International Affairs and the MBA, and was a member of the School Executive. As inaugural Director of International Affairs Isabel developed the School's international strategy and oversaw its implementation. One initiative was the ten-fold increase in the number of business school students benefitting from an international study experience. Similarly, during her time as MBA Director, the programme grew exponentially, nationally, as well as internationally, culminating with the MBA programme being accredited by AMBA. Isabel is particularly committed to life-long learning and the advancement of women in leadership roles. She enrolled the business school to the UN Global Compact, PRME (Principles of Responsible Management Education) and the WBA (World Benchmarking Alliance).
Isabel received a dual French and German BA (Hons) degree in European Business Studies and was also awarded an MBA. Isabel is a Senior Fellow of the Higher Education Academy (SFHEA), a Certified Management and Business Educator (CMBE) and an accredited mentor and coach (Chartered Management Institute, CMI). She won the business school's inspirational staff member award in 2017, and the Education and Students award in 2019 for her work on student-centred learning, linking Artificial Intelligence (AI) with curriculum innovation in the area of Sustainable Finance and Socially Responsible Investing.