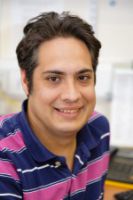 Dr
Alex Ralston
Biography
I graduated from the University of Manchester in 2010 with a PhD in Medieval History. Since then, I have worked in administrative roles for the Universities of Salford and Sussex respectively.
Qualifications:
Doctor of Philosophy (PhD) in History (2005-2009) School of Arts, Histories & Cultures, University of Manchester
Thesis Title: "The Settlement of Disputes in Early Medieval Europe: Processual Analysis and Rule Based Systems"
Master of Arts (MA) in Medieval History (2003-2004) School of Arts, Histories and Cultures, University of Manchester
Bachelor of Arts (BA) in Ancient & Medieval History (1998-2001) Department of History, University of Birmingham
Role
I am the Practice Experience Officer for the MPharm degree. Within this role I provide administrative support for the pharmacy team as well as helping to organise the practice experiential learning that our students undertake as part of their course.
.