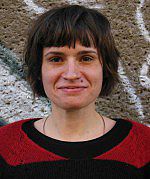 Dr
Sabine Hielscher
Post:
Senior Research Fellow (SPRU - Science Policy Research Unit)
Other posts:
Research Fellow (Sussex Sustainability Research Programme, The Sussex Energy Group)
Location:
JUBILEE BUILDING JUB-325
Email:
S.Hielscher@sussex.ac.uk

Telephone numbers
Internal:
8165
UK:
01273 678165
International:
+44 1273 678165

Research expertise:
download vCarddownload vCard to your mobile
Biography
Sabine Hielscher joined SPRU as a Research Fellow in October 2010. Her work has mainly focused on studying novel activities derived from groups in civil society, for instance, community energy initiatives and community-based digital fabrication workshops.
Since 2015, Sabine has also taken a Research Fellow position at the Technical University of Berlin, where she continues her work on civil society activities and sustainable consumption in everyday life. Sabine co-convened a course on 'Ecology and Design' at Goldsmiths College, London (2014-2015).
Prior to joining SPRU, Sabine completed a EPSRC funded PhD in Art and Design at Nottingham Trent University, drawing on social practice theory to examine hair care routines in relation to sustainable design/consumption ideas and before that, she completed a BA (Hons) in Eco-Design at Goldsmiths College, London, and worked for design studios (such as the Thomas Heatherwick Studio) and research units. She is a trained landscape gardener.
Role
Research Fellow