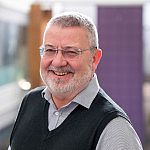 Mr
Mark Fisher
Biography
Thank you for visiting my brief biography.
I am a Senior Lecturer in Accounting, working within the Accounting and Finance Department here at the University of Sussex.
I graduated in 1983 with a degree in Physics from Imperial College, London.
I worked for eight years with one of the largest international firms of accountants; the now demised Arthur Andersen & Co, qualifying as a Chartered Accountant in 1986.  From an early stage I was involved in ICT consulting and computer auditing and used these skills to develop contract consulting work on large scale ICT implementation projects up to 1997.
By this stage I was able to follow areas with a greater personal interest, particularly developing enterprises in the not for profit sector.  Since 1997 I have provided professional accounting, finance, business development and corporate governance consulting support to a number of charities and not for profit enterprises and set some up from scratch.
I am currently a Governor at East Sussex College Group (see http://www.peridotportal.co.uk/eastsussexcolleges/) the Treasurer for Age Concern Eastbourne (see http://www.ageconcerneastbourne.org.uk) and a Director of Good Money CIC (see https://www.goodmoney.co.uk).
I have also developed a career in executive training and education.  I began working at the University in 2008 and currently cover a range of modules in undergraduate and taught post graduate courses as well as leading on the development of Online Distance Learning for the Business School.
All the best
Mark
Role
University level: Member of the University Council and Senate, Enactus University Advisor.
School level: Director of On-line Distance Learning (ODL).
Department level: Undergraduate Admissions Tutor.