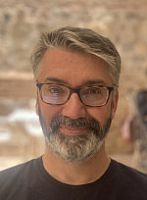 Dr
Antony Oliver
Biography
Dr Antony Oliver is a Senior Research Fellow in the Genome Damage and Stability Centre, at the University of Sussex.
Working in collaboration with Prof. Laurence Pearl FRS, his laboratory studies the molecular mechanisms underpinning the processes of DNA repair, principally using the technique of X-ray Crystallography.
Dr Oliver began his research career at University of Portsmouth, in the laboratory of Prof. Geoff Kneale, then moved to join Prof. Pearl's group at the Institute of Cancer Research, London, before its relocation to the University of Sussex in 2010.
Role
Senior Research Fellow, Cancer Research UK DNA Repair Enzymes Group
Laboratory Homepage: http://www.sussex.ac.uk/lifesci/oliverlab